Stephen Port: 'Competency' of Met Police focus of inquests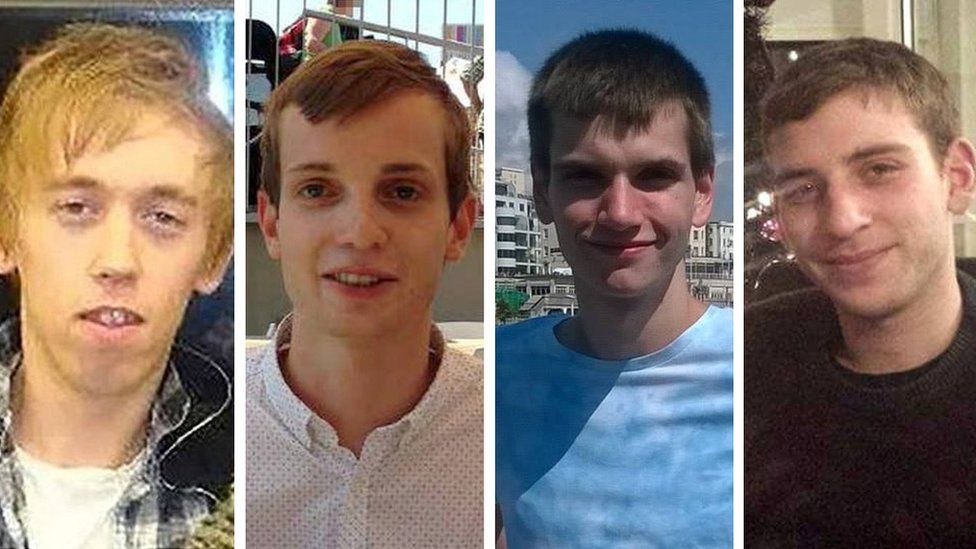 The inquests into the deaths of four men killed by Stephen Port are to examine if their lives may have been saved if police had acted differently.
Between June 2014 and September 2015, Port murdered Anthony Walgate, 23, Gabriel Kovari, 22, Daniel Whitworth, 21, and Jack Taylor, 25.
They were all given fatal overdoses of the drug GHB.
Jurors heard the inquests will consider whether opportunities were missed to uncover what happened earlier.
In 2016, Port was found guilty of their murders and attacking several others. He was given a whole life prison term.
In her opening statement to the jury, Judge Sarah Munro QC - who is sitting as the coroner - said Port's trial did not answer the question of whether the deaths "might have been prevented had the police investigated any of the deaths differently".
She added Port would "not play any part in these inquests but you will hear a great deal about him and his lifestyle".
Jurors heard police did not realise the men had been murdered by Port until after the final death.
Port met his victims online, including through the dating app Grindr, before luring them to his home where they were drugged and raped.
The inquests are taking place at Barking Town Hall, just yards from the east London flat where Port's victims were given fatal overdoses.
Ms Munro said the function of the inquests was not to attribute criminal or civil liability.
She told the jury: "If there appear to have been shortcomings in the way in which the police investigated these deaths, we must consider those shortcomings dispassionately and resist the temptation to look for scapegoats."
She stressed the ultimate responsibility for the four men's murders lies with Port.
Providing an overview of the four deaths, Ms Munro said Mr Walgate was found outside Port's flat in Cooke Street, Barking, on 19 June 2014. Port had called an ambulance, however he did not provide his real name.
It was decided the local police team rather than the Met's specialist homicide command should lead the investigation into the fashion student's death.
Investigators quickly established it was Port who had called an ambulance for Mr Walgate, but when questioned he lied to police and gave no indication he knew him.
It was a week later before they realised that Port, using the name Joe Dean, had in fact arranged to meet Mr Walgate, who was working as an escort at the time.
A special post-mortem examination could not establish the cause of death and it was another two months before it emerged he had died from an overdose of GHB.
Port was arrested and convicted of perverting the course of justice.
In the months before he was imprisoned, he killed Mr Kovari and Mr Whitworth three weeks within each other in August and September 2014.
The two young men's bodies were found in St Margaret's churchyard, some 300m (1,000ft) from Port's flat.
At the time, Mr Kovari's death was treated as "unexplained" but not suspicious, the court was told.
Toxicology tests found he had GHB in his system and he died from a "mixed drug overdose".
When Mr Whitworth was found, a fake suicide note - written by Port - was in his hand. The note appeared to claim Mr Whitworth had accidentally killed Mr Kovari and was taking his own life in response.
Ms Munro said the note was a lie, written by Port in an attempt to "cover up" the death - but that only became clear "much later".
The first three deaths were not treated as homicides until weeks after the final one.
The court heard inquests into the deaths of Mr Kovari and Mr Whitworth were held in 2015, however they were later set aside at the High Court in the wake of the murder trial.
During the first inquests, a friend of Mr Kovari, John Pape, had asked if it had ever been considered there could be a link with the earlier death of Mr Walgate. In response, a police officer said it had been considered but no link established.
Open conclusions were given, with the original coroner saying she had concerns about "third party involvement" in Mr Whitworth's case, so she could not be sure he took his own life, the court heard.
Mr Taylor was found in Barking Abbey ruins on 14 September, 2015, just over the wall from where Mr Kovari and Mr Whitworth were discovered.
Toxicology tests found he had traces of alcohol and GHB in his blood.
The police established that on 13 September Mr Taylor had taken a taxi to Barking station, where CCTV footage showed him meeting an unidentified man.
On 15 October, Port was arrested on suspicion of murder after a police officer, who was working on the investigation into Mr Walgate's death, identified Port as the man seen walking with Mr Taylor as he happened to see the CCTV images.
The hearing is expected to last 10 weeks.
Related Internet Links
The BBC is not responsible for the content of external sites.