Autistic boy knocked unconscious by fellow students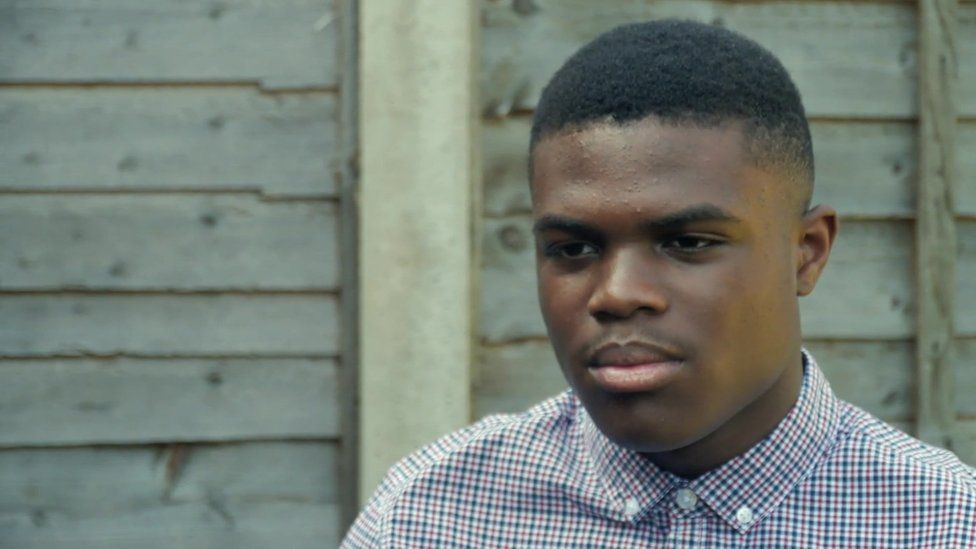 An autistic teenager beaten unconscious on the way home by fellow students has been let down, his parents say.
Jeremiah, 15, who is currently learning at home, required hospital treatment after the attack in Elephant and Castle, south London, on 11 May.
Police investigating the assault have made no arrests. Westminster City School says "robust sanctions have been taken including permanent exclusions".
"Even animals treat their own better than this," his father Julian said.
Jeremiah said he had been targeted by bullies for more than a year before the attack, including on the bus after school.
He said: "I was feeling depressed, I couldn't really laugh, I couldn't smile at the things I used to. I couldn't enjoy stuff easily, I couldn't socialise with anyone any more.
"It was stressful. My grades went down. I didn't want to study any more. I just wanted to be alone."
His parents Isa and Julian say Jeremiah initially returned to school part time, but was punched in a class where a computer mouse was thrown at him.
They have decided to keep him at home for the start of this term after the removal of the provision of a taxi, which was how he got to and from school for the final month of the summer term.
They are appealing to Southwark Council to cover the cost of the taxi, which was previously met by the comprehensive school.
Julian criticised the school's response, adding: "We haven't even received an apology."
A spokesperson for Westminster City School said: "The safety and welfare of our students is our highest priority and we take any incidents of bullying very seriously.
"As soon as this matter was brought to our attention we took immediate action and worked closely with the family, local authority and police to ensure the necessary support was in place. In line with our behaviour and anti-bullying policies, robust sanctions have been enacted, including permanent exclusions where appropriate.
"As we are continuing to support the police, it would be inappropriate to comment on the investigation at this time.
"It is the local authority and not the school which makes decisions around the provision and funding of private transport. However, we put temporary measures in place and funded these while the local authority came to its decision in this case. The local authority has now decided that transport is not required.
"We are continuing to work closely with the family so that appropriate provision is in place."
Related Internet Links
The BBC is not responsible for the content of external sites.