Chelsea Flower Show: Pumpkins as event held in autumn for first time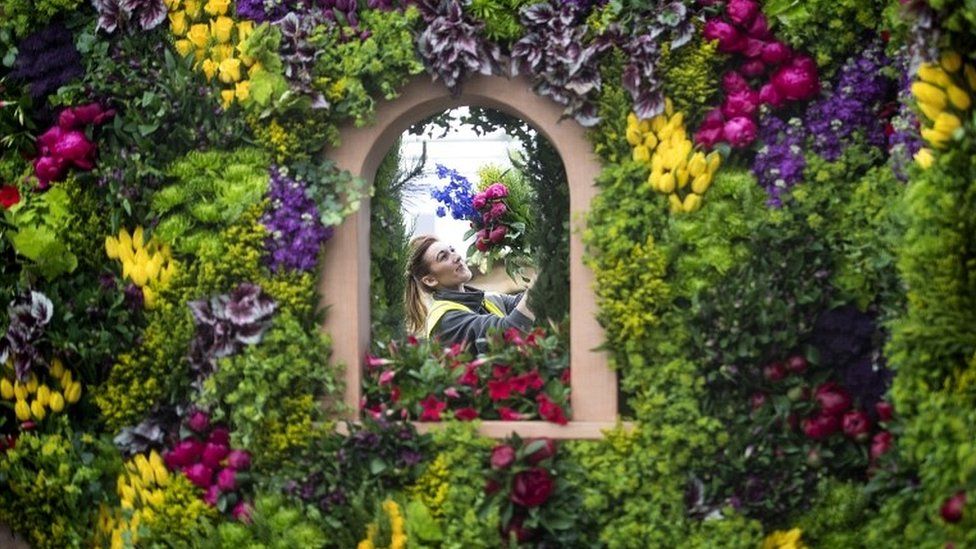 Pumpkins and dahlias will feature in the first ever Chelsea Flower Show to be held in September.
From 21 September, Royal Hospital Chelsea will show harvest fruit and vegetables along with seasonal asters.
The Royal Horticultural Society (RHS) described its first autumnal show in 108 years as "unique".
Helena Pettit, RHS director of gardens and shows, described the changing season for the show as a "challenge" for growers.
She said: "This year's RHS Chelsea promises to be a unique moment in history, with new colour palettes, seasonal produce and later flowering plants that autumn brings, alongside many plants and new exhibitors that we may not usually see at the show in May."
Tickets remain available for the six-day show which is usually filled with spring and summer colours.
The RHS said it hoped the delay will allow a celebration of tropical plants and topiary which look good in autumn.
Trees full of fruit and berries will make an appearance along with autumnal coloured foliage.
Next year's event will be held in May.
The first show opened on 20 May 1913 with the first events held over three days within a single marquee
A show still took place in 1915 after war was declared in Europe, although with fewer exhibitors. It was then cancelled for the duration of World War One
Rain during the 1932 show was so severe that a summer house fell to pieces
The flower show was discontinued again in 1939 due to World War Two, only returning in 1947. Virtual event took place in May 2020 and May 2021 due to the Covid-19 pandemic
The current Great Pavilion is about 11,775 sq m (2.9 acres) in size, approximately enough room to park 500 London buses
Related Internet Links
The BBC is not responsible for the content of external sites.