Grenfell Tower: Families angry at lack of consultation over demolition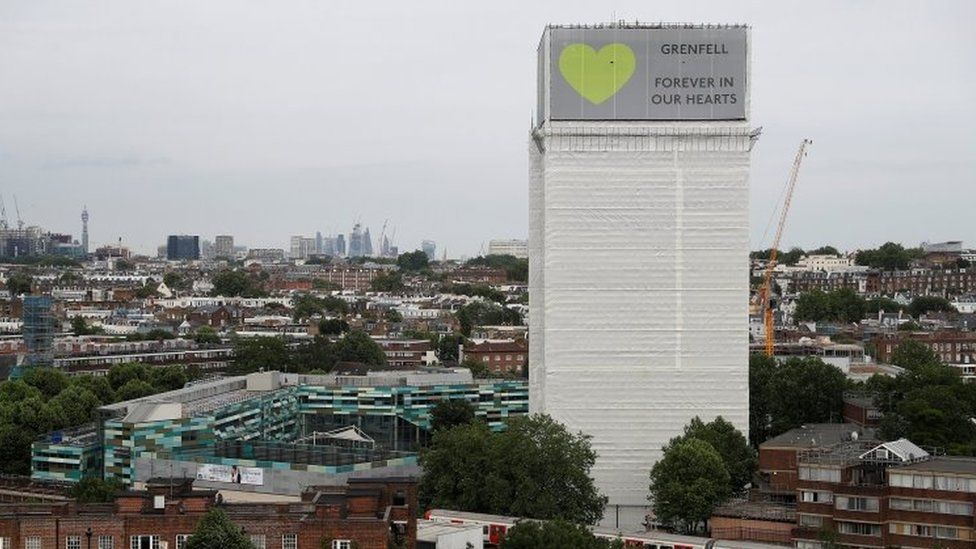 Bereaved relatives of those who died in the Grenfell Tower fire say they are "disgusted and disappointed" that they have not been consulted after experts advised it should be taken down.
The Sunday Times reported ministers were set to announce it would be demolished for safety reasons.
But those affected by the tragedy say no action should be taken until a decision is made on a lasting memorial.
The government said a final decision on the tower had yet to be taken.
It added no changes to the structure would be made before the fifth anniversary of the disaster, in June 2022.
In a safety report commissioned by the government and published in May, engineers Atkins said there was "unanimous agreement and unambiguous advice" from experts that work to "deconstruct or partially deconstruct" the tower should start by May 2022 at the latest.
It said there were concerns over the safety of those living and working around it.
Seventy-two people died in the fire that engulfed the 24-storey tower in north Kensington, west London, on 14 June 2017.
A government source told the Sunday Times the decision to demolish it was a "fait accompli".
Grenfell United, which represents survivors and families of those who died in the fire, said it was shocked.
In a statement, it said many of the Grenfell community accepted the tower's removal was a case of when not if, but the timeline needed to be decided by the "bereaved, survivors and the community not the government".
"Given what we went through, safety has always been paramount and we have had previous assurances that the tower can be kept safe for as long as it needs to be, and that it poses no risk to the community around it", the group said.
It also said too few families had so far been consulted with and that "a wide range of viewpoints" needed to be taken into account.
Abbas Dadou, from the Lancaster West Residents Association, said it was "utterly disgusting" more residents had not been consulted.
"They [the government] should empower residents and should give them the options to choose what they want."
Nabil Choucair, who lost six members of his family in the blaze, said it was important a decision on Grenfell Tower was not rushed, describing it as a "very sensitive, very delicate" matter for people in the community.
"This is about our family members. Seventy-two people should never have lost their lives there."
A spokesperson for the Ministry of Housing, Community and Local Government said it knew how "important and sensitive" the decision was and it had yet to be taken.
"Following important independent safety advice from structural engineers, we are engaging closely with the community as we consider the evidence including the safety concerns raised, and what the future of the Grenfell Tower should be."
Related Internet Links
The BBC is not responsible for the content of external sites.