London council worker's bus odyssey sparks Twitter storm
By Sam Francis
BBC News, London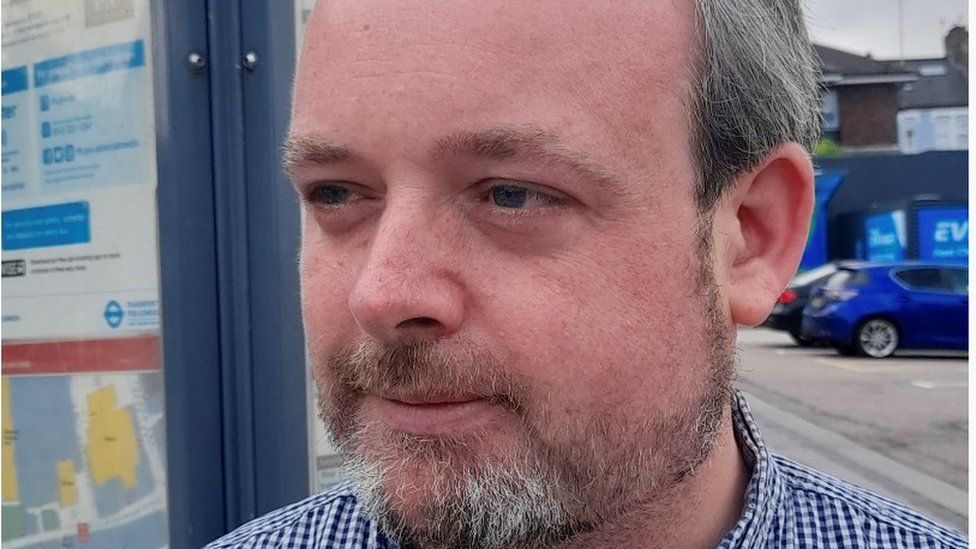 "I like travelling by public transport and by bus; I think it's a great way to see the country," Mr Kibble explains.
"I also really like timetables and I like the logistics of putting things together."
After "the last 18 months of having exciting travel plans cancelled", he decided to work out how far he could get from the centre of London in 24 hours on public bus networks.
"It was just a paper exercise to keep me occupied," says Mr Kibble, who is head of the Leader's Office at Ealing Council. "I had some fun doing that on commutes to and from work."
Mr Kibble figured the furthest he could get in one day would be Morecambe in Lancashire - some 260 miles from Charing Cross, the geographical centre of London.
"One day I decided to see if it worked in person and not just on paper," Mr Kibble said.
The bus journey would take him through some of the "fly-over counties" he'd never experienced.
"Northampton, Leicester, Aylesbury - the unknown quantities between the big metropolis. Places we'd normally travel through on a train at 130mph."
At 03.00 BST on Friday he boarded his first bus, the N9 to Heathrow - "London's fourth-longest route".
From there he travelled through Slough before pivoting north through the Chiltern Hills.
While travelling he said he discovered there was a "large fan following of Preston Bus Station".
"People sent me messages telling me I needed to go and visit Preston Bus Station. Luckily it was already on the route.
"It is a remarkable piece of architecture; seeing that first hand was surprisingly moving in a way."
Another highlight was travelling through the Peak District on the TP2 service, Mr Kibble said.
"Derby to Buxton is absolutely stunningly beautiful; gorgeous villages, lovely streams and hills and sheep.
"It is classic tourist country but happens to be on a very good, very fast public transport link."
Mr Kibble's planning, as intricate and precise as a well-played game of chess, was nearly derailed once he left Northampton.
"I was on a seriously delayed bus. The X7 from Northampton to Leicester got delayed due to roadworks and attempted fare dodgers.
"The bus driver also stopped to speak fluent Italian to some tourists struggling to buy a ticket, which was frankly incredible public service."
Across a whole day of travelling this led to the only missed connection, which, luckily, was into a very frequent bus route.
At 00.29 on Saturday Mr Kibble arrived at Morecambe Bus Station, six minutes early.
The 260-mile journey had cost him £56.95 - roughly £16 more than the cost of the train journey home.
The trip also provided "an interesting microcosm of a day", Mr Kibble said.
"Seeing your late-night revellers in London, then people starting early shifts at Heathrow, then on to a normal commuting route through Milton Keynes.
"I got to Northampton and Leicester around the time older people's bus passes become valid, which was a very different crowd, and then on to students pub-crawling through Greater Manchester.
"I now know too much about the sex lives of some Lancaster University students and the tall tales some people tell about their batting prowess."
Despite spending 21 hours and 24 minutes travelling on buses, Mr Kibble says he never "went mad".
"I started to lose grip on things on the Number 8 from Manchester to Bolton.
"It was mile after mile of suburban dual carriageways and towns merging into one another, some of them unusual names like Irlams o' th' Height.
"I started to get tunnel vision on never-ending roads. But I managed to snap out of it with a quick stop and a walk around Bolton."
Frequent toilet breaks and walking around town centres while waiting for connecting bus routes kept him going.
Mr Kibble was also at least partly powered by a lunch packed by his wife, and Tender Cow bars - a chocolate-covered biscuit he has recently discovered.
He also singled out Aylesbury Bus Station as "one of the most depressing places on earth".
The station, at the bottom of a multi-storey car park, is "a concrete bunker full of diesel fumes and awful toilets", he said.
Since posting details of his journey on Twitter, the thread has been retweeted thousands of times.
The trip even got a congratulatory message from the minister responsible for buses Baroness Vere, who tweeted: "What a journey! Brilliant! Well done!"
"I completely wasn't expecting it," said Mr Kibble.
"I'm not sure why it's struck a chord with people."
Mr Kibble, who runs a blogging site where he talks about politics, policy and travel, says he has never had a reaction like this.
What a journey! Brilliant! Well done! Best wishes, the Minister for Buses

— Charlotte Vere (@CharlotteV) August 20, 2021
"It's been incredible to be labelled as quintessentially English.
"It's not something I had recognised in myself before, so it's an interesting window into how people see Englishness and Britishness.
"But according to my wife, who is Italian-South African, the fact you can go anywhere without a car is a key strain of Britishness."
Among messages reminiscing about favourite bus journeys or tips about local hidden gems to visit, Mr Kibble said he was pleased to see "a serious policy discussion" break out.
"People were interested in seeing how the system works and how it's linked to politics and the geography of the area.
"Bus networks are a very important part of building a fairer country and an economic system that works for more people.
"Sometimes Twitter can be a nice place for discussions."
The reaction to his journey has made Mr Kibble think about his next trip.
He has previously cycled across from the northernmost tip of the Netherlands to the country's southern border.
"People are throwing ideas at me via Twitter, so who knows what I'll do next," he said.
"I'm not even certain Morecambe is the furthest you can get on a bus. Who knows, there's maybe a competitive future Olympic event out of this."
But for the time being at least, Mr Kibble said he would be avoiding buses on his morning commute.
"I have a choice of routes into work and I think I might just stick to rail forms of transport for the next few weeks."