Nearly every London school in high air pollution area, report says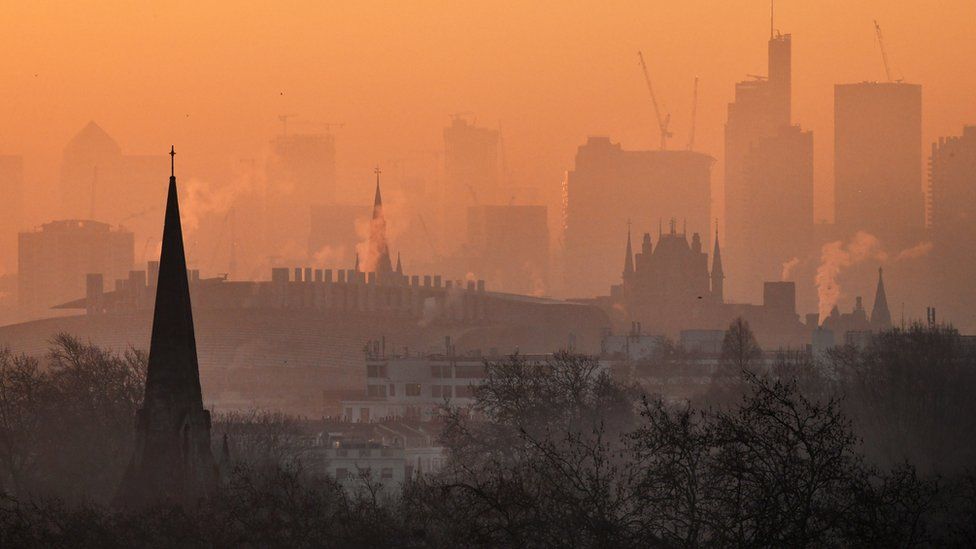 Almost every London school is in an area where air pollution levels exceed World Health Organization limits, City Hall analysis suggests.
Figures show 98% of schools are in areas with toxic air quality, compared with 24% outside the capital.
Across England 3.1m schoolchildren are affected.
Excessive levels of air pollution can stunt lung growth and worsen chronic diseases.
The analysis is based on figures from 2019, before the pandemic struck the UK.
City Hall said it shows the average concentration of particulate matter was a third higher at schools in London than in the rest of England.
Of the 30 local authorities with the highest particulate matter at schools, all but two were London boroughs.
Air pollution was found to have caused the death of Ella Adoo-Kissi-Debra in Lewisham, south-east London, a coroner ruled last December.
Her mother Rosamund, who has spent the last year campaigning on improving air quality, described the figures as "shocking".
She said: "I am not surprised but incredibly upset about it. Doing nothing is not acceptable where I'm coming from.
"It's the reality I have witnessed. It seems like lessons from my daughter's death have not been learned."
Mayor of London Sadiq Khan said: "I'm doing everything in my power to stop young Londoners breathing air so filthy that it damages their lungs and causes thousands of premature deaths every year."
Nick Bowes, Chief Executive of the Centre for London think tank, described the figures as "shocking".
He added: "The expansion of the ULEZ in the autumn will be a huge step, but City Hall could be bolder and adopt a pay-per-mile road user charging scheme which would deliver cleaner air, increase active travel and reduce congestion, as well as provide a substantial income stream to help plug Transport for London's finances."
Related Internet Links
The BBC is not responsible for the content of external sites.