Bibaa and Nicole: The life after death of two sisters
By Bethan Bell
BBC News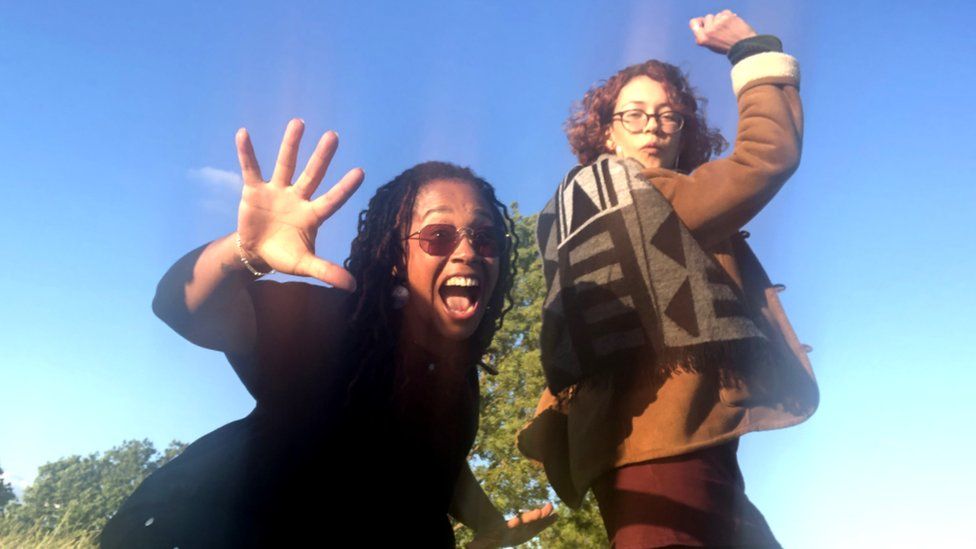 "Mina. Mina, we found a knife. Mina, I'm going to need you to sit down. I found them. I found them but they've gone."
With those words, Adam Stone extinguished Mina Smallman's last spark of hope that this story could have a happy ending.
Over the previous two days she had become increasingly concerned about the oldest and youngest of her three daughters, unable to reach either Bibaa Henry or Nicole Smallman - the partner of Mr Stone.
The police had seemed uninterested; Mrs Smallman felt there was a frustrating lack of urgency in searching for the sisters, who had been celebrating Ms Henry's 46th birthday at a country park.
"I said to the police: 'We don't know if there's been foul play here - we have no idea. We are now 36 hours on and they haven't turned up.'
"I knew instantly why they didn't care. They didn't care because they looked at my daughter's address and they thought they knew who she was.
"A black woman who lives on a council estate."
The news of the murders of Bibaa Henry and Nicole Smallman hit the headlines on Monday 8 June 2020.
The two sisters had been repeatedly stabbed. Their bodies had been lying behind a line of trees at Fryent Country Park in Wembley, north-west London, since the very early hours of Saturday.
Mr Stone and friends who had been with the women at the birthday gathering had already tried to raise the alarm.
He knew something was wrong when neither woman could be contacted on Saturday. He knew it when Ms Smallman's flatmate said she had not come home, and when he couldn't trace his girlfriend with a phone-finding app, and when he saw that her bank account had not been accessed. He knew it when there was no answer to his frantic knocks at Ms Henry's front door.
He had telephoned anyone he thought could shed light on the disappearance, including the police. Nothing. The two women had seemingly just vanished.
Nina Esmat, a nurse who had been friends with Ms Henry since they were 16, was equally as convinced that something terrible had happened. And so, on Sunday 7 June Ms Esmat and Mr Stone made their separate ways to Fryent Country Park, where Ms Esmat found a pair of Ms Henry's sunglasses.
"I saw them glinting in the sun and my heart sank. I just knew she would not have left them behind." She called the police who told her to take them to a local police station.
Mr Stone and his parents continued to search.
He found another pair of sunglasses, these belonging to Ms Smallman. He left them where they lay, in case the park became acknowledged as the crime scene it was.
Mr Stone's father found a knife.
Mr Stone saw shoes in the undergrowth.
He had found his girlfriend. The woman he had been with for six years, who had lived with him at his parents' house. The co-owner of their pet bearded dragon.
The last text message he received from her said: "I'm dancing in a field."
Now, lifeless, she had been left intertwined with her equally motionless older sister. Their eyes were open, blank and dull. Stab wounds were visible on their bodies.
Mr Stone dropped to his knees and screamed.
"It was like the whole world stopped at that point," his mother said.
Mr Stone had to break the news to the others. He telephoned Mrs Smallman. He texted Ms Esmat. He used the same phrase: "I found them. They're gone."
The events leading up to the attack were pieced together. Detectives soon determined the perpetrator was a stranger. There was no logic to the killing of Ms Henry and Ms Smallman. They were chosen because they were there.
The evening had started so well. The picnic area had been decked out with blankets and cushions. Ms Esmat was the first to arrive and joined the sisters at the top of the hill.
"It was a beautiful evening, amazing view, amazing sunset. We were all taking pictures remarking on the sky at night."
They were only there because they had been following the rules. Social distancing meant Ms Henry could not celebrate her birthday indoors. She arranged a small gathering in the open air.
There was food and drink, music and laughter, fairy lights and friends; and selfies that should have preserved memories of people doing their best to enjoy life during a strange summer of lockdown.
The sisters, thanks to the senseless actions of an insignificant teenager who thought he could do a deal with a demon, are at risk of being remembered as murder victims, forever associated with something that was done to them rather than by them, something out of their control.
But Bibaa Henry was a strong woman. She was a mother, a daughter, a sister, a friend and a colleague.
She fought for what was right; she was a fierce exponent for the more vulnerable members of society.
She was "a force of nature" who lived in Brent in north-west London, an "exceptional" senior social worker at Buckinghamshire Council, "just fantastic to be around", had "the biggest personality in the room" and was a fervent advocate in safeguarding at-risk children and families.
A "lovely woman who was both serious and fun", her luminous love for life drew people to her "like a beacon in the darkness".
Before qualifying in social work Ms Henry had a job driving disabled children to their activities. Baby daughter beside her, she would get her young passengers singing and enjoying the journey.
She was proud of her father, Herman Henry, the ABA featherweight champion of 1982 who set up his own building contracting company.
She was proud of her mother Mina, who gave up office work to train as a teacher and later joined the priesthood, becoming the Church of England's first black female archdeacon.
She was barely 5ft tall yet "had the heart of a lion" and "a smile that would put the Blackpool Illuminations to shame".
Nicole Smallman, 19 years younger than her elder sister, shared many of the same interests, especially in the arts.
Laid-back and approachable, Ms Smallman was a photographer, a University of Westminster graduate and "a joy to be around".
In comparison to Ms Henry's blinding incandescence Ms Smallman's personality was more diffuse; mellow and all-encompassing.
Long-time family friend Ieuan Ledger said: "You hear about people 'lighting up a room' when they walk in. But that description is almost too harsh for Nikki.
"When she walked into a room she was like a nightlight. It was subtle, protective, warm."
A talented artist, she was passionate about her work in documentary-making and theatre. She was also a singer and an actor with a speaking voice so "silky smooth" her teacher said she should do radio or TV presenting.
She "saw beauty in everything", was friendly, enthusiastic and much-loved. Calm and positive, she was a strong supporter of humanitarian and environmental causes.
Her parents, Mina and Christopher, would laughingly agree the baby of the family "was a child of the '60s", and beautiful both inside and out.
Mr Ledger's godmother is Mina Smallman. His mother, who went to university with Mrs Smallman, is Nicole's godmother. Mr Ledger and Ms Smallman called themselves "godsiblings".
"We were very close as children - as we became adults it was harder and harder to be as involved but she was still very much in my heart. I had a stuffed tiger she gave me, it was on my shelf well into my 20s.
"It really didn't sink in until a couple of months later when something snapped inside me and I realised that I was never going to see Bibaa or Nikki again. That was the hardest part.
He added: "Every single moment there was something new that made it even worse than it was."
When Mr Ledger heard of the killer's efforts to secure a big lottery win, "there was a moment of sheer disbelief. To find out it was to do with just trying to win the lottery... it was beyond tragic.
"It's insulting. If it wasn't bad enough already, such a banal reason - it was insulting and offensive."
Mrs Smallman, who said the greatest fear of any parent is that they will outlive their children, described herself as "broken beyond words".
"The grief we feel is palpable, our beautiful and talented daughters gone."
She later said: "I think the notion of 'all people matter' is absolutely right, but it's not true. Other people have more kudos in this world than people of colour.
"That's what gives me purpose - if their lives make a change in the way women are viewed, and black women in particular.
"In the pecking order of things we are the lowest on the ladder."
The final images Mrs Smallman's daughters captured on their phones are both haunting and poignant.
Whirling lights and grinning, spinning sisters laughing at each other; stars wheeling overhead as they dance, and the soft apricot glow of London's night sky throwing the trees into gentle silhouette.
But a teenager lurking just out of shot had also planned his evening - one of spilled blood, horrific violence and pointless sacrifice.
The very last photograph was taken by the sisters at 01:13. It shows the two women looking distracted and glancing to their left.
PC Deniz Jaffer, 47, and PC Jamie Lewis, 32, have been charged with misconduct in public office by taking "non-official and inappropriate photographs" of the murder scene. Both officers have been suspended from duty. They are due at the Old Bailey on 13 July to enter a plea formally. They have said they are "sorry beyond measure for the pain that they have caused".
The Independent Office for Police Conduct (IOPC) is carrying out a separate inquiry into how the Met handled calls from worried relatives and friends of Ms Smallman and Ms Henry before their bodies were discovered.
Related Internet Links
The BBC is not responsible for the content of external sites.