Christian Eriksen: Defibrillator sales soar after Denmark footballer's collapse
By Rebecca Cafe
BBC News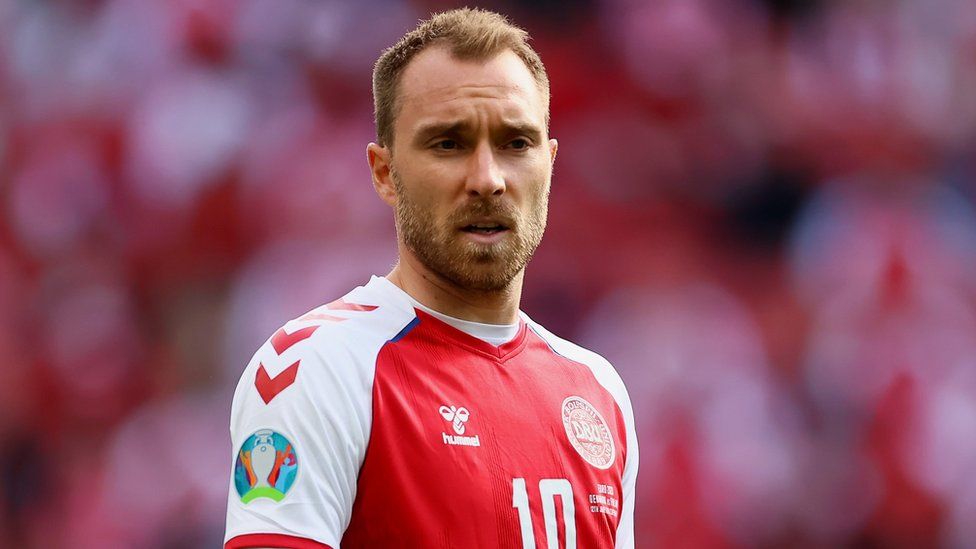 Sales of defibrillators have risen sharply following Christian Eriksen's cardiac arrest during Denmark's opening game at Euro 2020.
The device - which gives a high-energy electric shock to the heart - was used as part of the emergency action that saved the footballer's life.
Healthcare suppliers and the Community Heartbeat Trust said they had seen a huge increase in sales and inquiries.
These were from people wanting to buy defibrillators as well from those needing to replace parts on ones they already owned.
One of those people was Johnny Vowles, a technology business director from near London.
He said following Eriksen's collapse, he checked where his nearest public defibrillator was.
"I knew there was one close so I went and I looked and I found one, but then I realised it's a good 10-minute journey there and back.
"After seeing what happened to Eriksen I thought, 'Buy one and just put it on our street.' They're expensive but I figured what's the cost of a defibrillator if it saves somebody's life?"
He added: "When I was a teenager, my next-door neighbour died from a cardiac arrest and I remember seeing a paramedic performing CPR.
"I'm not really worried about having a cardiac arrest but it's nice to have a safeguard for my family and neighbourhood."
Martin Fagan, national secretary for the Community Heartbeat Trust, urged people to make sure they were buying the right type of defibrillator and that they were trained to not only use it, but to know that it is part of the wider medical response.
Defibrillators that are stored externally should be registered with the local ambulance service either directly, or via the National Defibrillator Database so that the ambulance service can direct a 999 caller to the nearest one in an emergency.
Cardiac arrest 'chain of survival'
"What happened on Saturday was a perfect example of how a rescue should be done," said Mr Fagan.
"Those players were really well trained as they knew exactly what to do and that's why he's alive. Whoever trained his teammates did a really superlative job."
Recognise there is a problem
Call for medical help
Start chest compressions
Use a defibrillator
Go to hospital
Mr Fagan said the UK was a "long way off" the ideal target of having a defibrillator in every community.
In a city-centre environment, there should be one every 200m (650ft). In rural areas, there should be one for every 1,000 people.
Defibrillator sellers have said they have a good supply at the moment, however they say that Covid has had an impact on availability.
Stuart Baxter from Safelincs - which has seen an increase of up to 500% since Saturday on sales and inquiries - said Covid meant many charities and social organisations were not fundraising to buy defibrillators and, with many premises being closed, they did not want to buy one to sit on an empty building.
He added there had been component shortages, such as for electrode pads that had met their expiry date, as manufacturers focused on Covid-related products.
Kerry Fairhurst from defibshop said for one of its products there were 400 orders outstanding, as there was a shortage of component parts at the manufacturers.
"As a supplier we are becoming increasingly more and more concerned that all these delays will inevitably result in a fatality," she said.
Related Internet Links
The BBC is not responsible for the content of external sites.