Mary Wollstonecraft statue: Maggi Hambling takes aim at critics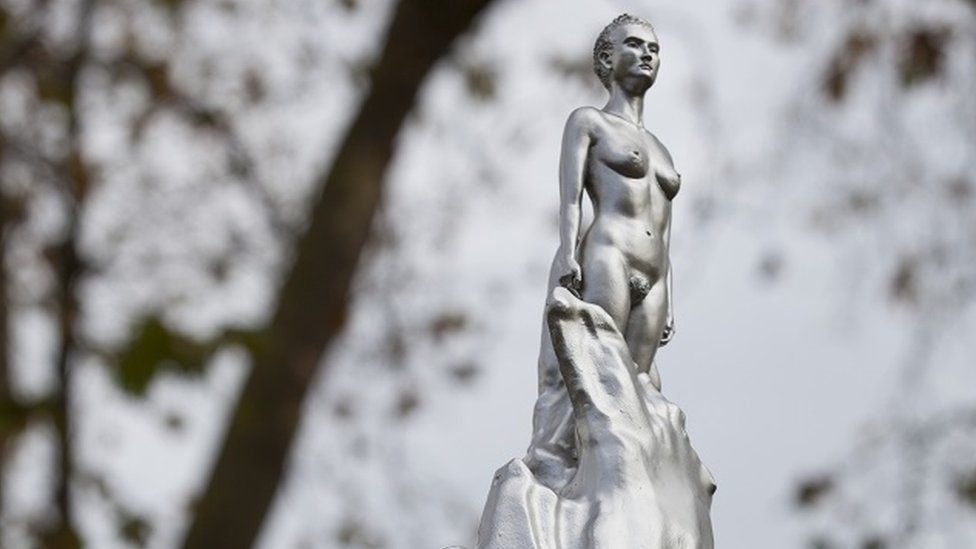 The sculptor Maggi Hambling has said she was surprised by the criticism of her Mary Wollstonecraft memorial.
The naked figure of the 18th Century feminist went on display at Newington Green in Islington, north London, in November 2020.
Hambling told BBC Radio 4's Today programme: "What sort of surprised me was the objection to the naked figure."
She said that "part of the objection came from feminists," whom she added were "denying that they have bodies".
When it was unveiled the silvered-bronze sculpture came in for criticism, partly from those who felt there was no need to depict Wollstonecraft naked.
"There has been nude sculpture for time immemorial," Hambling told the BBC.
Discussing the reaction to the sculpture, she said "a lot of people didn't want the Eiffel Tower in Paris".
Hambling said it was "rather irritating" that pictures in the media had focused on the naked figure at the top of the sculpture rather than the artwork as a whole.
She said she thought "more and more people are liking" the sculpture with the passage of time, adding that it "did serve its purpose in that so many more people now have asked themselves, 'Who the hell is Mary Wollstonecraft?'"
Who was Mary Wollstonecraft?
Wollstonecraft was born into prosperity in 1759, but her father, a drunk, squandered the family money.
Like her mother, she often suffered abuse at his hands.
Wollstonecraft received little formal education but she set out to educate herself, and at 25 opened a girls' boarding school on Newington Green, near the site of the statue.
Wollstonecraft was 33 when she wrote her most famous work, A Vindication of the Rights of Woman, which imagined a social order where women were the equals of men.
She mixed with the intellectual radicals of the day - debating with Benjamin Franklin, Thomas Paine and Joseph Priestley.
She died aged 38 following the birth of her daughter, the author Mary Shelley.
At the time the statue was unveiled, writer Caitlin Moran said a better representation of a naked "everywoman" would be of "Wollstonecraft dying, at 38, in childbirth, as so many women did back then - ending her revolutionary work."
"That would make me think, and cry," she tweeted.
Mary Wollstonecraft
'Mother of feminism'
Born 1759
Abused by drunk father
Educated herself
Set up girls' boarding school at 25
Wrote about the rights of women
Mixed in academic circles
Died age 38 after giving birth to the author Mary Shelley
Gets a statue - great!
Oh. 🤦🏼 pic.twitter.com/Bd0wDSJnAV

— Ruth Wilson (@RuthWilsonPR) November 10, 2020
Caroline Criado Perez, who campaigned for Jane Austen to appear on the £10 note, said the statue felt "disrespectful to Wollstonecraft herself".
Historian Simon Schama wrote that he "always wanted a fine monument to Wollstonecraft - this isn't it".
Related Internet Links
The BBC is not responsible for the content of external sites.