Fishmongers' Hall: MI5 did not see Usman Khan as threat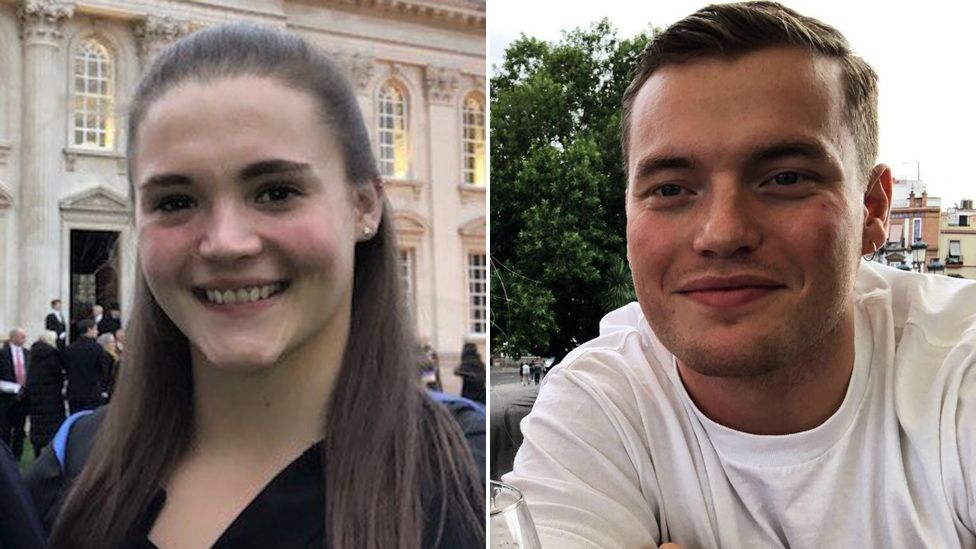 The UK's top intelligence agency did not consider a convicted terrorist a risk, an inquest court has heard.
Usman Khan was jailed for a terror offence in 2012 before being released on licence six years later.
He went on to kill Saskia Jones and Jack Merritt in a knife attack at London's Fishmongers' Hall.
MI5 told the hearing it had been considering whether to close an ongoing investigation into Khan.
A deputy director of MI5, known as Witness A, was giving evidence at the inquests in London's Guildhall from within a closed pod, meaning that no-one in court could see her.
The court heard that Khan spent more than four years under active MI5 investigation while he was in prison and that the security service had re-opened the case in the months before his release.
Witness A said MI5's prison intelligence on Khan was shared with counter terror police and that in November 2018, MI5 received intelligence that Khan might return to his "old ways" and re-engage in terrorist-related activity including "carrying out an attack".
But the inquests were told that a document before the multi-agency panel responsible for managing Khan after release, only referred to the "old ways" intelligence, which it stated was "low grade" - and not the material about planning an attack.
When asked in court whether she was aware the information had not been passed on, Witness A said: "We did not know that".
MI5 continued its investigation into Khan, however, and upped its level of priority due to the prison intelligence, the inquests heard.
After Khan's release from prison, it carried out two assessments to ascertain whether he might become a lone attacker, but both failed to assess him as posing such a risk, the inquests were told.
The inquests heard that MI5 and the police held a joint meeting about Khan on 18 November 2019.
Witness A said at that point the MI5 investigation into Khan was "heading towards closure" as it had not detected any conduct of national security concern.
Eleven days after that meeting, Khan killed Ms Jones and Mr Merritt and injured three others during a conference on offender rehabilitation, which Khan had been allowed to attend unaccompanied.
He had been invited to attend the Fishmongers' Hall event as he was perceived a "success story" of the Learning Together programmes he enrolled in while in custody.
The deputy director told the court that MI5 had "no intelligence of concern" at the time that could have fed in to a decision on whether Khan could attend the event.
She told the jury: "We had not seen anything to suggest it was a potential source of risk".
Mr Skelton told the inquests that he was unaware MI5 had been investigating Khan and that if he had known of MI5's concerns "the whole management process would have altered".
Psychologist Ieva Cechaviciute, previously told the inquests that she had assessed Khan's risk of engaging in extremist activity would increase upon his release in December 2018.
Related Internet Links
The BBC is not responsible for the content of external sites.