Apsley House: Napoleon bronze death mask restored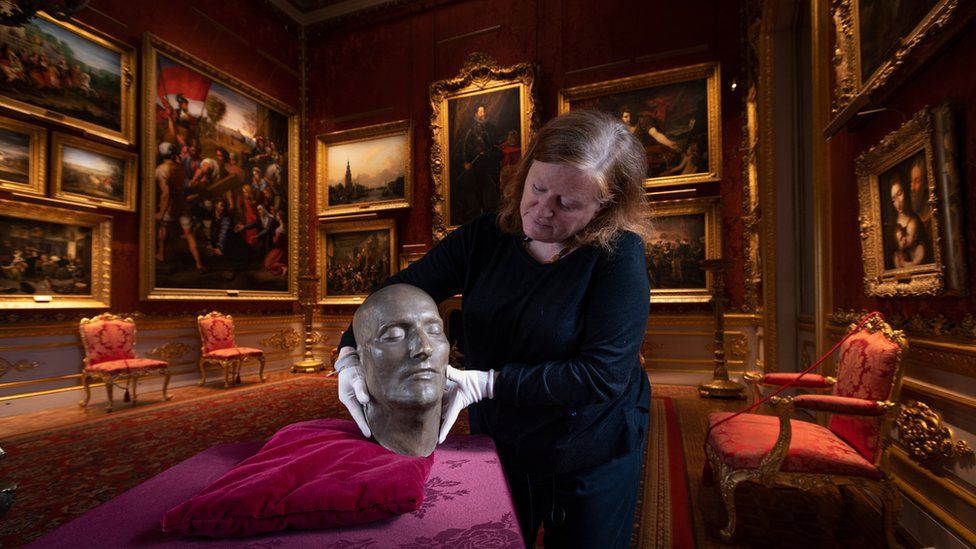 A death mask of Napoleon Bonaparte has been cleaned and conserved to mark the 200th anniversary of the French emperor's death.
The bronze, which is a direct impression of Napoleon's face at the time of his death, will go on display at Apsley House in central London.
The Hyde Park townhouse - home of Napoleon's arch nemesis the Duke of Wellington - reopens later this month.
Napoleon as Mars the Peacemaker has also been cleaned ready for the reopening on 19 May.
The 11ft 3½in (3.45m) statue by Antonio Canova depicts the 5ft 6in (1.67m) dictator as the Roman god Mars.
Sculpted between 1802 and 1806, it was declared "too athletic" by Napoleon and never displayed in public.
After the Battle of Waterloo in 1815, in which Napoleon was defeated by the Duke of Wellington, it was bought by the British government and given to the duke as a gift.
Napoleon Bonaparte: key dates
1769 - Born in Ajaccio, Corsica
1785 - Graduates from military academy in Paris
1795 - Commands French revolutionary troops who defeat royalist rebels in Paris
1796-1802 - Wins key battles against Austria, Prussia and others
1804-05 - Crowns himself emperor then defeats Austrian and Russian troops at Austerlitz
1812-14 - Campaign in Russia results in disastrous retreat; forced to abdicate and exiled on Elba island
1815 - Escapes from Elba, then defeated by British and Prussians at Waterloo; exiled to St Helena, where he dies six years later
Related Internet Links
The BBC is not responsible for the content of external sites.