Shaun Bailey: 'Politics isn't scary when you've seen stabbings'
By Sam Francis
BBC News, London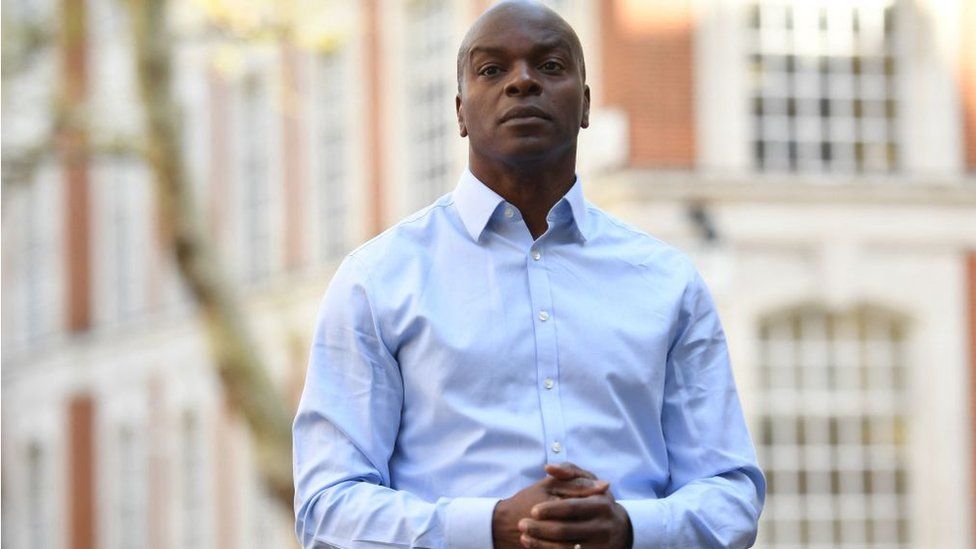 The Conservative candidate for mayor of London has not had a traditional route into politics. From fighting with drug dealers to sofa-surfing while homeless in his 20s, Shaun Bailey says his upbringing makes him the right man to lead London.
This article is part of a series of profiles on the candidates from the four largest parties running for mayor of London.
On the day he was first asked to stand to be a Conservative MP, Shaun Bailey had "a fight in a car park with a drug dealer".
"He was trying to sell drugs to one of my young people and he attacked the kid so I had to step in," the former youth worker explained.
He has dozens of stories like this. But dealing with this kind of violence seems to help put the combative world of politics into perspective.
"If you come from where I come from and you've seen people stabbed to death, then you can ride the political barbs people throw at you," Mr Bailey said.
He believes his upbringing has made him a more empathetic politician than most.
"I grew up in social housing, I grew up unemployed. I was homeless for a long time.
"I'm the sort of person that policy really affects, that it means the most to."
Mr Bailey was born in north Kensington in 1971, and was raised on an estate near Grenfell Tower in Ladbroke Grove.
His parents split when he was very young, and Mr Bailey lost contact with his father for several years.
However, he counts himself "lucky" with his upbringing as he had a large, nurturing family unit shielding him from the crime and disorder around him.
He said: "My mum was determined to keep me away from bad influences.
"I had two uncles and two aunties who just got it. They were constantly trying to help me navigate me through some of the pressures young black men face."
Mr Bailey said he struggled academically at school.
"I'm dyslexic so school didn't work for me. But I'm massively inquisitive, I like anything technical."
A decision to enrol him into the Army Cadet Force and in gymnastics training when he was young "opened up my whole world".
"My mum focused on filling my time. She put me in the Army Cadets and if I have any redeeming personal qualities, a lot of it was developed there.
"Gymnastics in particular taught me how to focus. Army Cadets taught me about teamwork.
"Both of the environments are really disciplined and I met people from outside of my community. It just broadened my horizons."
After school he spent a long period unemployed, taking up a series of short-term jobs.
He later returned to education and graduated with a degree in computer engineering from South Bank University aged 27.
After university, he returned home to find his friendship group ravaged by crime.
"Somebody I know had been murdered, someone I know had been involved in a murder.
"I'd already done some youth work in my early teens.
"I felt like I knew enough about my community to help there be no reprisals and then go on and do something positive."
From there he fell into youth work full time. Within 18 months he said he had "an army of people" helping him.
Mr Bailey said his political awakening came through listening to US musicians and activists.
"Public Enemy is actually what got me to think about politics before politics," he said.
He cites two tracks, She Watch Channel Zero?! and 911 is a Joke, as having been particularly important to him.
"The lyrics of those songs just start to make you think about things."
He also counts as inspirations Gil Scott-Heron and Martin Luther King Jr - two figures normally associated with America's left wing.
"They're 100% not socially conservative artists," Mr Bailey admits.
"I was listening to the beat, let's be clear.
"But you start to hear the echoes of your own experience and your own community in that music and it makes you alive to what's going on.
"My youth mentor, Barran Hulme, was a committed socialist.
"He did me the greatest favour anyone has ever done. He forced me to think for myself. He used to say 'these are my political beliefs, you need to form your own.'"
Mr Bailey's youth work and his conviction that liberal policies were destroying London's inner-city areas led to interest from the Centre for Policy Studies - the think-tank founded by Margaret Thatcher.
It was while speaking at a Centre for Policy Studies that David Cameron, then the leader of the Conservative Party, took notice of Mr Bailey.
Within a year he had been selected to stand for the Conservatives for the Labour safe seat of Hammersmith in the 2010 general election.
He increased the Conservative vote in the area and his efforts impressed Mr Cameron and his director of strategy Steve Hilton. Six months after the election Mr Bailey was asked to come to 10 Downing Street as a special adviser on youth and crime.
Mr Bailey said his upbringing had made him only too aware of the challenges facing Londoners.
He credits his years of homelessness and unstable tenancies as the foundation of his flagship housing policy.
"I remember one night being on the 220 bus, I remember because it was the bus I used to get to school, and I was waiting for someone to call me to give me somewhere to stay," Mr Bailey said.
"That night I realised the two reasons I was homeless: I couldn't afford a home and I was a profile that councils couldn't afford to house."
Councils are able to set their own schemes to allocate social housing, but must give priority to people at risk of homelessness. Families and people with medical needs are usually prioritised above single people.
If elected, Mr Bailey plans to build 100,000 shared-ownership homes to be sold for £100,000 to first-time buyers.
"What I've tried to do with my housing policy is covering the broadest number of people," he said. "There are many, many people in housing need who wouldn't get social housing. So I need to help them as well."
LONDON'S ELECTION: THE BASICS
What's happening: On 6 May, people will vote to elect a mayor and 25 members of the London Assembly. Together they form the Greater London Authority, which governs the capital.
Why does it matter? The mayor has a £19bn budget, is responsible for transport and policing and has a role in housing, planning and the environment. The London Assembly holds the mayor to account. Find out more here.
Since breaking into politics Mr Bailey has come in for criticism over his comments on the UK's welfare system.
In 2006 he wrote that people were exploiting the welfare system to increase their benefits, including young girls "deliberately becoming pregnant".
Labour called his comments "repulsive and dangerous".
In March, Mr Bailey claimed people "would buy lots of drugs" if they were given a universal basic income.
Simon Duffy, director of the Centre for Welfare Reform, called the comments "not just false" but "clearly unproven".
Mr Bailey has a positive spin on this criticism, though, arguing that disagreement is good for politics.
He said: "My take on the world is nobody is right about everything. You have to be willing to learn and you often learn more from people who disagree with you.
"One of the biggest failings of Sadiq Khan is that he has been quite adversarial and divisive.
"I will try to bring people together, and also acknowledge that some days we might just not agree. But it doesn't mean we can't live together and work together.
"I think we can have a much more pluralistic London and that's what I'm aiming for. I love the idea of unity."