Fishmongers' Hall porter 'stabbed Usman Khan with spear'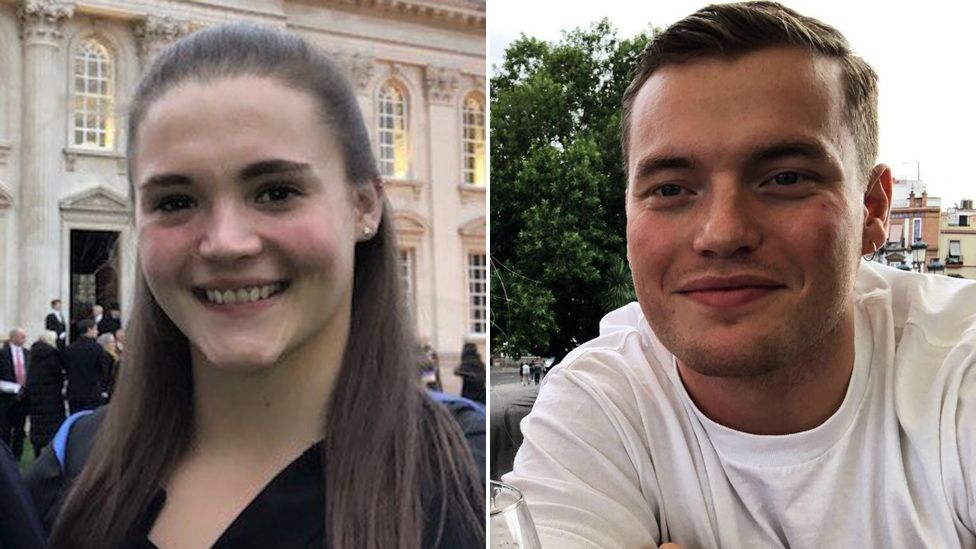 A man working at Fishmongers' Hall stabbed an attacker with a large decorative spear after deciding "he had to be hurt", an inquest has heard.
Lukasz Koczocik described how he grabbed the ornament from a wall and went "face to face" with Usman Khan.
Khan killed Jack Merritt and Saskia Jones and attacked others at a prisoner education event on 29 November 2019.
Another witness recalled how the 28-year-old had remained "expressionless" as he stabbed her.
The inquest jury at London's Guildhall was told how head porter Mr Koczocik sprang into action after a housekeeper ran downstairs, shouting "someone's got stabbed".
The Polish national said he went upstairs and saw a man with two knives who was being confronted by three men "holding objects", including a chair and a sign.
He said Khan was "defending himself from the objects that were hitting him" and did not stop even when "they hit this man on the head with the chair".
Mr Koczocik said he then "froze for a few seconds" before he pulled the ornamental spear, known as a boarding pike, from the wall.
"The next thing I remember - me going back to the lobby area and being with this man face to face.
"I decided he had to be hurt, because I realised what was happening. I tried to stab him," he said.
The head porter described how he tried to stab Khan in the face but "he was batting me away", and when he jabbed at his stomach he said he heard a "metal clink".
Khan then grabbed the pike with one hand and dragged himself "closer to me", Mr Koczocik said, cutting at his hand and shoulder.
"I dropped the pike because he cut the tendon in my hands," he said, adding that he was probably only still alive because other people carrying makeshift weapons crowded Khan.
Butler Jeffrey Stevelman, who witnessed the confrontation between Mr Koczocik and Khan, described the scene as "absolute chaos".
He told the inquest there had been a "Mexican standoff" and Khan had stood there and opened his jacket and started shouting: 'I've got a bomb, call the police, I've got a bomb.'
"You stand there and try to process it. It was just unreal," he said.
Stephanie Szczotko, who also gave evidence, told the jury how Khan had stabbed her during the attack.
The former student had been at the event in central London due to her work with prisoners as part of her criminology degree at Cambridge.
She said she first heard screams and shouts, and "a cluster of people" had fled past her before "I saw a man run towards me".
Ms Szczotko, who suffered wounds to her arms and torso, said Khan had a knife raised above his head and she raised her arm "instinctively" as he struck.
"For a moment I felt I was just paused in that moment," she said. "I remember looking at him with shock and confusion."
When asked about her witness statement, in which she described how her attacker "didn't seem particularly bothered or psyched up", she replied that he had been "expressionless".
The Guildhall also heard from Samy Sadek, an emergency doctor who described how he was met by several "very distressed" armed police officers after being called to the attack.
Describing what he saw upon entering the hall, the consultant said there were "numerous police officers, there was a lot of noise by way of shouting - there was lots and lots of blood".
Dr Sadek said he saw Ms Jones, 23, being given CPR at the foot of a staircase, but felt the extent of her injuries meant "there was no intervention we were able to provide to save her life".
He described how as he examined other casualties, including 25-year-old Mr Merritt, he was told there was a bomb.
The consultant explained that he and his team "were attempting to establish whether there was an ongoing threat" but "no-one was able to tell us if there was one or more assailant".
Dr Sadek told the Guildhall he and his colleagues began massaging Mr Merritt's heart but "we were not able to resuscitate Jack".
When asked whether every effort had been put in to help both victims, Dr Sadek replied: "Absolutely everything was being done."
Simon Bird, a maintenance electrician working at the hall that day, also gave evidence. He described how he heard Khan shouting for the front doors to be opened.
He said: "I heard a voice from someone I now know to be Usman Khan: 'Open the effing door, open the effing door.'
Mr Bird, who said Khan had a large kitchen knife in his hand, said he then witnessed what he described as "a river of blood".
The inquest hearing continues.
Related Internet Links
The BBC is not responsible for the content of external sites.