Highgate School pupils hold walkout after claims of 'rape culture'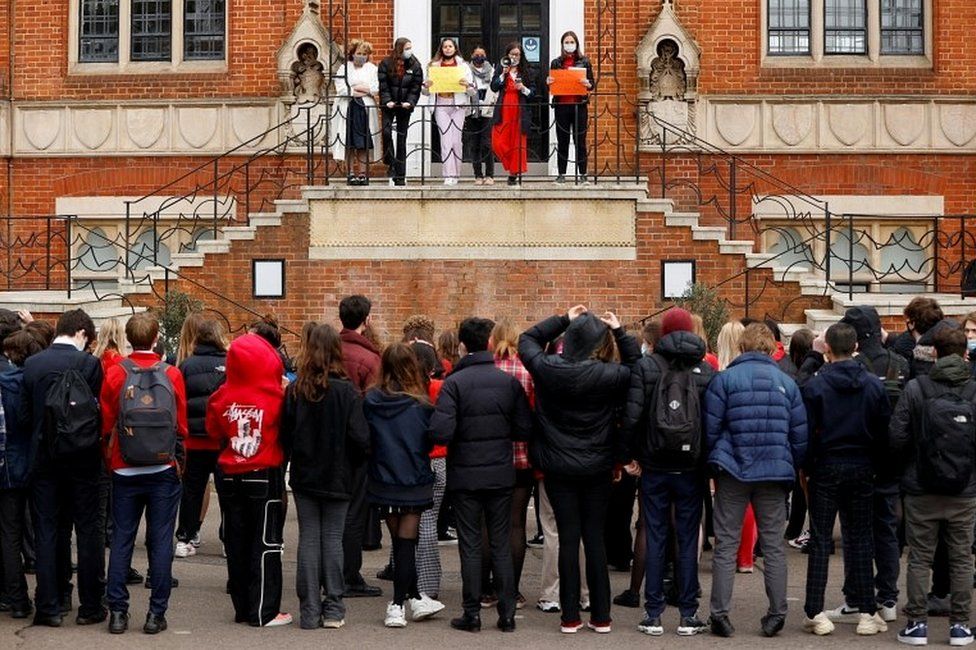 Pupils at a north London private school walked out of classes following claims the school had a "rape culture".
A dossier with more than 200 testimonies by former and current Highgate School pupils was sent to governors and published online.
The document includes first-hand accounts of alleged abuse as well as claims rape was "tolerated" by staff.
The school said it "fully supports" the pupils' action and has launched an external review into the allegations.
The anonymous testimonies made in the document were written by pupils in response to the question: "What is your experience of rape culture at Highgate School?".
Many include claims of abuse in classrooms or off the property, with one describing how they were raped by one boy, sexually assaulted by two others "and sexually harassed by too many to keep count".
Staff are also criticised for not investigating claims and failing to care for those who approached them with allegations.
"The way the school has behaved has resulted in a space where rape is rife and also totally tolerated.
"I would go so far as to say rape at Highgate School is normal," one account states.
According to the school, the walkout took place at lunchtime and involved girls and boys from years 11, 12 and 13 who wanted to show "solidarity with survivors of sexual abuse and harassment".
In a statement, the school's governing body said they were "deeply shocked and horrified by the allegations that have recently come to light" and apologised "to any victim of sexual harassment or abuse who was not properly supported".
"The governing body has commissioned an immediate external review of the allegations led by a team of professionals with expertise in this field."
They added that they "fully support and commend the actions of our pupils today".
More than 5,600 accounts feature on the Everyone's Invited site and founder Soma Sara previously told the BBC they "expose rape culture and the scale of sexual violence amongst young people in the UK".
Related Internet Links
The BBC is not responsible for the content of external sites.