Crossbones: Historical London burial ground 'saved for decades'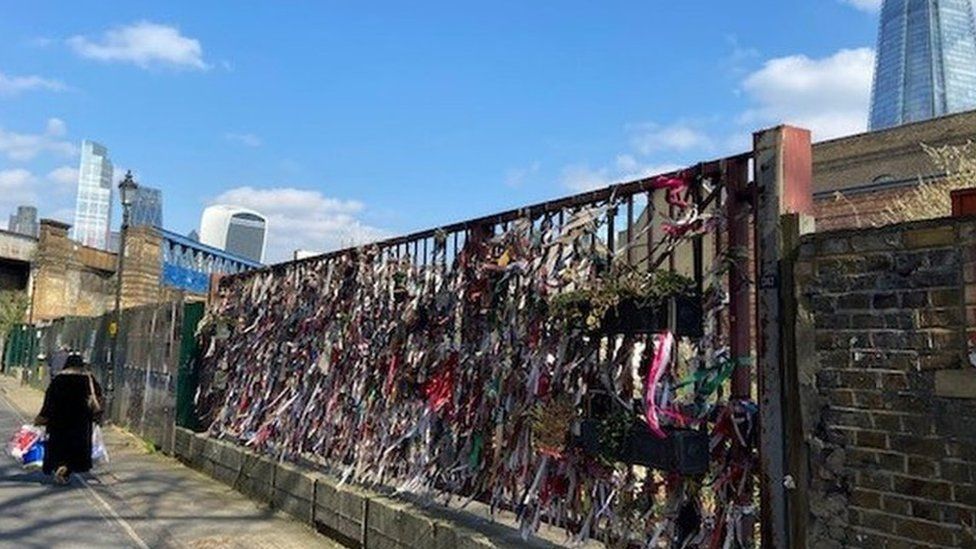 The future of a historical cemetery in south London has been secured for decades following a deal reached by developers, Transport for London (TfL) and local campaigners.
Crossbones graveyard in Southwark is thought to contain remains of 15,000 paupers, prostitutes and children.
Plans for nearby redevelopment had been approved in the summer of 2020.
A 30-year lease granted to Bankside Open Spaces Trust "will secure [its'] future for years", the charity said.
The graveyard, close to London Bridge and now in the shadow of the Shard, was closed more than 150 years ago.
In the 1990s, construction workers digging tunnels in the area for the Jubilee line extension, discovered dozens of skulls and bones.
A local group, Friends of Crossbones, worked to preserve the graveyard together with Bankside Open Spaces Trust (BOST), and in 2014, a public garden of remembrance was opened, dedicated to those on the margins of society.
There had been concern that the development of Landmark Court - which will provide 36 homes, offices and retail space - would have had an impact on the graveyard, which is on land now owned by Tfl.
Richard Upton, chief executive of developers U+I, said: "Crossbones Graveyard is one of London's extraordinary hidden places.
"From the outset we have been determined to secure the future of this special place, ensuring not only that it is preserved but enhanced."
Conditions attached to the development of Landmark Court means BOST will receive annual funding to support the maintenance of the garden and enable wardens to be on site during public opening hours.
A Tfl spokesman said the graveyard had played "an integral role in the area's history" and that it was important that the site was respected and honoured.
"We are thrilled to be starting the next chapter for this unique space," added BOST chief executive Charlotte Gilsenan.
Work on the Landmark Court scheme is expected to be completed in 2024.