Freddie Mercury the seal dies after dog attack near Thames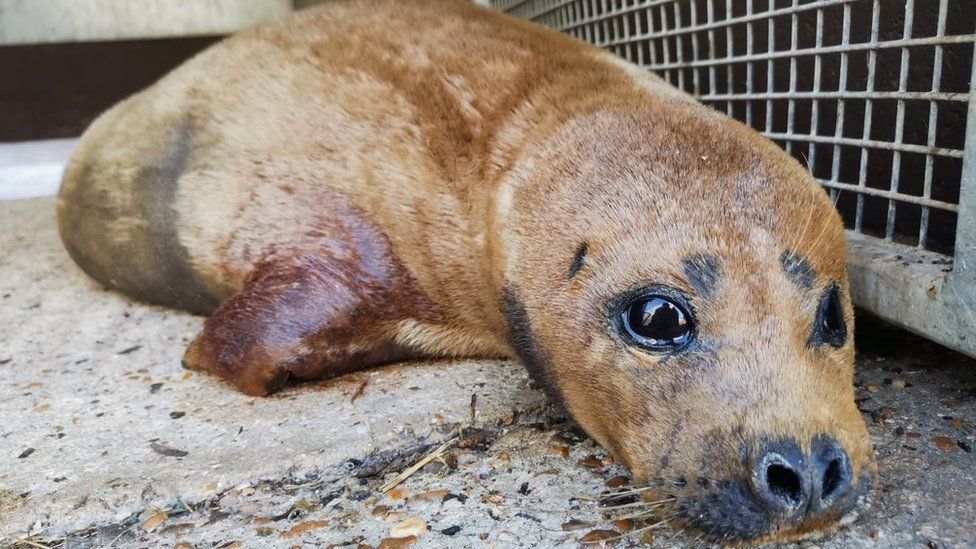 A popular seal known as "Freddie" has been put down after being attacked by a dog.
The animal, named after Freddie Mercury because of his crowd-pleasing antics, has been entertaining people near Hammersmith Bridge in Barnes.
Distressing pictures over the weekend showed the young seal being bitten by a dog on Sunday afternoon.
He was taken to the South Essex Wildlife Hospital in Tilbury but has since died, vets said.
The British Divers Marine Life Rescue (BDMLR) sent medics to treat Freddie's wounds - which included a bite to his right flipper.
Further X-rays revealed Freddie suffered a broken bone, dislocation as well as damage to his joints, ligaments and nerves.
"That made it impossible to treat and return him to the wild," a BDMLR statement said.
"We contacted a number of marine mammal veterinarians in the UK and the Netherlands, including an orthopaedic surgeon, and sadly based on their experiences the decision is that he needed to be euthanised for his welfare.
"We would be unable to release a seal back into the wild with one flipper, if amputation was an option, as we have a firm policy on not putting animals into captivity, and the seal's welfare must be put first and foremost."
BDMLR's CEO Alan Knight said Freddie was the victim of a "ferocious attack" and said the team was devastated to hear about the seal's passing.
He added: "We hope that his story will go a long way to helping educate people to look up and follow the appropriate guidelines for how to behave respectfully around wild animals and not cause disturbance or worse to them."
Related Internet Links
The BBC is not responsible for the content of external sites.