Covid-19: Wedding venues 'booked up for two years'
By Charlotte Franks
BBC News, London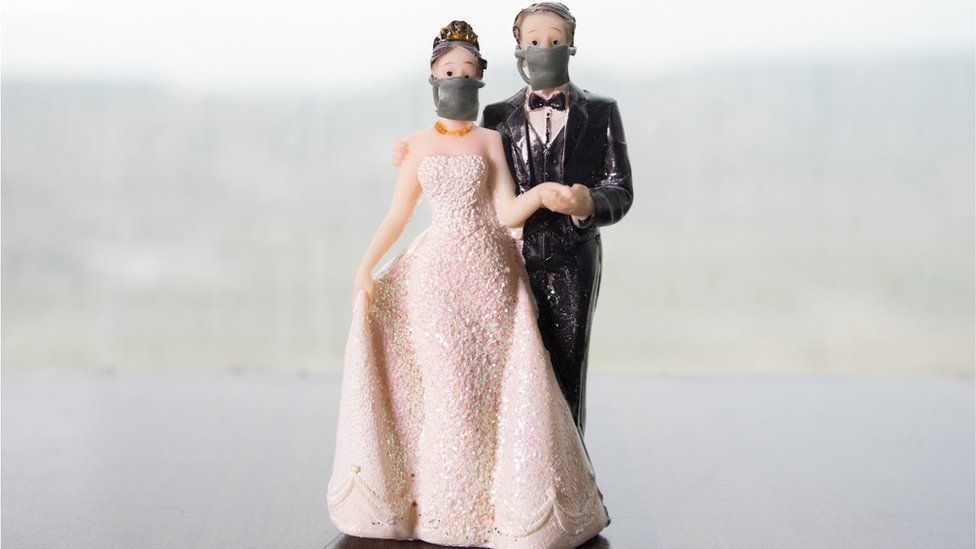 A wedding planner from London claims many venues across the capital are booked until the end of 2022, as more people start to plan their weddings.
Rebecca Brennan-Brown, who runs her business from Soho, said the wedding industry is showing signs of recovery.
"The second Boris Johnson stopped talking, my phone started ringing non-stop," she said.
"I think I walked away from my desk at about 8 o'clock that night and didn't stop working on my phone until I went to bed."
"The last year has been pretty ropey to say the least. It's just been a constant up and down. I've struggled, living in London as it's expensive.
"I've had to scrimp and save what I have."
She added: "I think I'm still processing what was said because I wasn't expecting there to be no restrictions in June - that feels very quick for me personally.
"My diary now is completely packed for the rest of this week with consultations."
On 29 March weddings will be able to proceed with six attendees but will no longer be limited to exceptional circumstances.
No earlier than 12 April, guest lists can be increased to 15 attendees. This will increase to 30 people no earlier than 17 May.
By 21 June the government hopes all legal limits on social contact will be removed with restrictions on weddings abolished.
"Many venues in London are completely booked out until 2023 and those that aren't yet have hiked up their wedding packages by about 15%," Ms Brennan-Brown said.
However, she added the lifting of restrictions later this year will still not help everyone who is planning a wedding.
"With London in particular there are people living here from all over the world.
"Due to the international travel rules, those people with family abroad still might not be able to get them over here in time for the wedding. "
Despite having some concern over the future, the wedding planner is still feeling positive: "I just can't wait to get back to it," she said.
Gemma Daly and Tom Ashdown from Barnet in north London are having a civil ceremony on 22 May.
"We have decided to go ahead with our wedding, despite the fact we could have a larger wedding just a month later," says Gemma.
"We thought about holding it off until we could have a proper celebration, but if we wanted to cancel it, we would have to pay more money, which we don't want to do."
She said the wedding has been difficult to plan due to the pandemic.
"In the last year two people have died who would have been at our wedding so we've held off from doing things like seating arrangements."
But she added: "We will be able to see more people than we originally thought we would and more than we've seen in one place in the last year."
Lauren Evans and Chris Seymour from Shepherds Bush in west London, will be getting married in July.
"I'm anxious about our wedding because we have booked it right on the cusp of when all restrictions are due to be fully lifted in June," says Lauren.
"I'm worried because it could be spectacular; one of the first few parties people are having post lockdown.
"Or it could end up being 30 people if the lockdown roadmap doesn't go as planned."
The couple has only had to postpone their wedding once throughout the pandemic.
"It's been a real rollercoaster over the last year. It's only now that I'm starting to believe we might actually get our wedding."
She has concerns about how her guests will feel on the day.
"My biggest fear is that people will feel uncomfortable at the wedding and worried about mixing.
"We want the big party, we want the raucous dance floor but I'm worried that's not going to be possible or realistic."