Hammersmith Bridge: Replacement ferry not ready until summer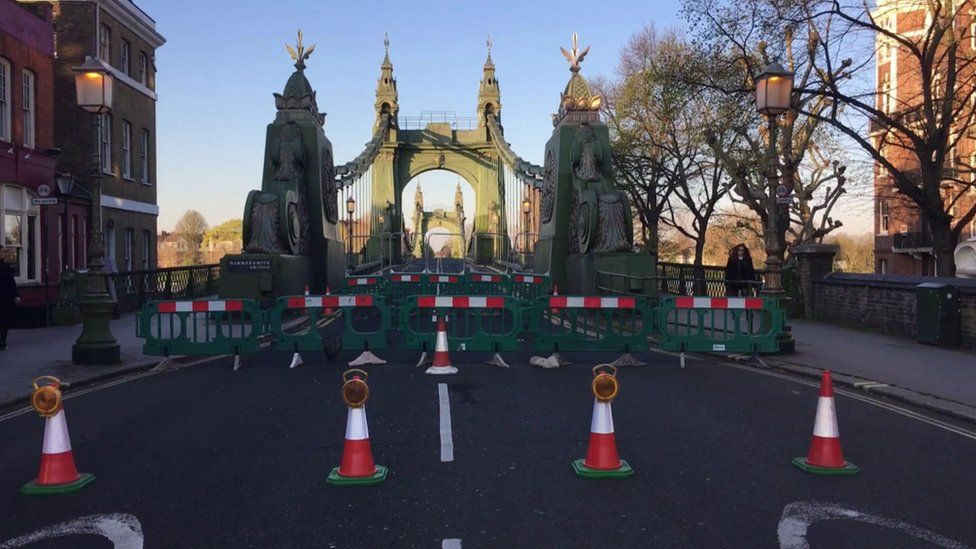 A long-awaited replacement ferry service to take passengers across the River Thames is unlikely to be operational before the summer.
Pedestrians and cyclists have been unable to cross Hammersmith Bridge since it was closed in August when structural cracks widened.
It has meant thousands of people, many from Richmond, having to travel via Chiswick and Putney instead.
The ferry had been expected to have been in service by the spring.
Transport for London (TfL) says requests have now been made for "additional time" by the ferry companies bidding for the contract.
Two companies, City Cruises and Uber Boat by Thames Clippers, have submitted "detailed bids".
TfL added that it expected the service would run between 06:00 and 22:00 on weekdays, with shorter hours at weekends, and passengers would be charged £1.55 per ride.
"The service is expected to have a minimum capacity of around 800 passengers per hour at peak times," a spokesperson said.
TfL said the award of the contract was dependent on the government agreeing to provide financial support for the ferries.
A government taskforce was launched in September 2020 to develop plans to reopen the bridge.
TfL said it had already spent £16.7m on the scheme, with a further £4m committed to repair work taking place.
On the south bank, a planning application has been submitted to Richmond Council to create a terminal at the disused Harrods Wharf, about 0.25 miles (0.4km) south of Hammersmith Bridge.
Hundreds of public comments have been submitted about the application, which was lodged in January by architects Lifschutz Davidson Sandilands (LDS) and entrepreneur and philanthropist Jamie Waller.
It is not clear when a decision on the application will be made by Richmond Council's planning committee.
Related Internet Links
The BBC is not responsible for the content of external sites.