Covid-19: Sadiq Khan considering more police in schools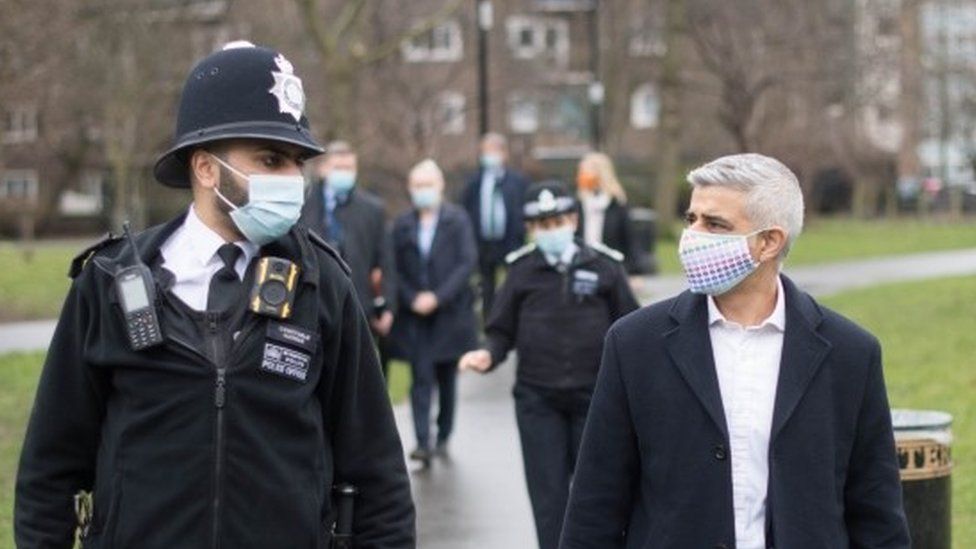 More police officers could be placed in some London schools when they fully reopen to help prevent a surge in violent crime, Sadiq Khan has revealed.
Met Police school safety officers have already been working at certain schools in areas of high violent crime.
The London mayor said in some cities around the world that have already come out of a Covid-19 lockdown, there had been a surge in violent crime.
It is a "key challenge" to stop a post-lockdown violent crime surge, he said.
Speaking on a visit to Bethnal Green, he added: "So for example, making sure when schools fully reopen, school safety officers are there, making sure that police are properly targeted in those areas in London where there's a concern.
"We have the violent crime taskforce going to those boroughs of high violent crime, but also working with the violence suppression unit as well."
The Met pledged last year to review its Safer Schools Programme after the family of a 14-year-old autistic black pupil, who was investigated by the Crown Prosecution Service following a verbal disagreement at his school, began judicial review proceedings.
Campaigners say the policy risks creating a "climate of hostility," particularly for black students.
The mayor also announced he would continue to fund 1,000 police officers.
The officers have been paid for over the past three years through business rates, however that income has fallen sharply amid the pandemic.
The Labour mayor now proposes to fund them for the next four years through council tax and the City Hall reserve fund, at a cost of £30m, if he is re-elected.
Mr Khan also announced he would spend £8m on violence prevention measures, such as electronic tagging of violent offenders and funding for youth workers in A&E and trauma centres.
"If we are to see the long-term reductions in violence that we all want to see in our city, we must continue to tackle the underlying causes of crime, such as poverty, deprivation and lack of opportunities for young Londoners.
"I'm doing everything I can from City Hall to reduce violence, but it's clear we still have huge financial challenges ahead."
He added: "Ministers must now match my commitment to tackling this issue and fully refund City Hall and the Met for all the lost income and money spent tackling the pandemic."
His team said about £21m of Covid costs remained unfunded in the current financial year.
Mr Khan hopes to be re-elected mayor when Londoners head to the polls on 6 May.
LONDON'S ELECTION: THE BASICS
What's happening: On 6 May people will vote to elect a mayor as well as 25 members of the London Assembly. Together, they make up the Greater London Authority (GLA), which governs the capital - you can register to vote here.
What difference does it make? The mayor has a £19bn budget and is responsible for Transport for London, the Metropolitan Police, and has a role in housing, planning and the environment. The London Assembly holds the mayor to account by examining their policies. Find out more here.
Who is standing? London's current mayor, Labour's Sadiq Khan, is seeking re-election and his main challenger is Conservative Shaun Bailey, but there are 18 others running.
Conservative mayoral candidate Shaun Bailey said crime under Mr Khan in the last four years had "spiralled out of control".
He added: "As we recover from the pandemic, we can't afford a city where our children aren't safe."
Mr Bailey said he plans to recruit 4,000 youth workers and open a youth centre in every borough, should he be elected as mayor.
"That way, we can deal with the causes of crime - and give young people the support they need, no matter where they live," he added.
Related Internet Links
The BBC is not responsible for the content of external sites.