Terror plotter rapped about bombing, Old Bailey told
By Daniel De Simone
BBC News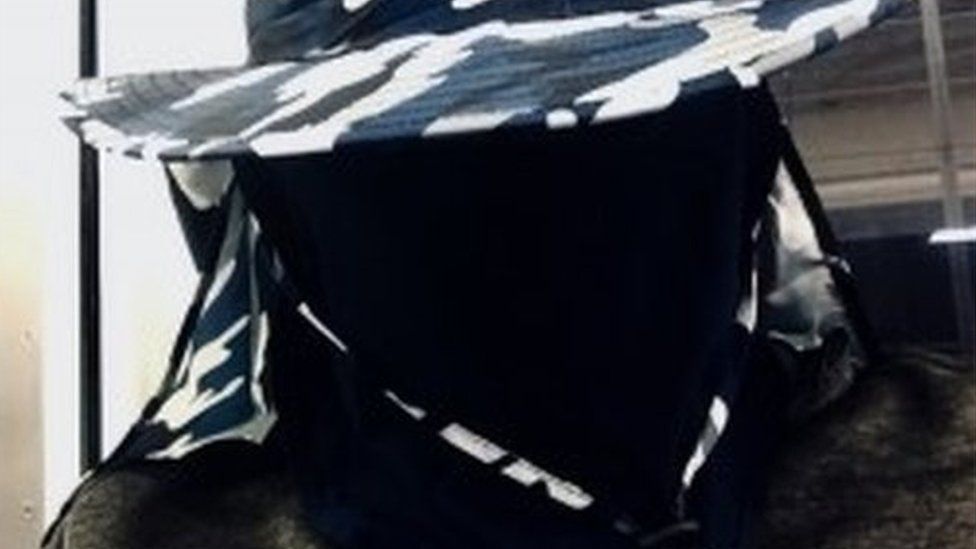 A man who planned an Islamic State-inspired terror attack made a rap recording in which he stated "I'll be sending bombs and you'll be getting smoked", a court has heard.
Sahayb Abu, 27, from east London, denies preparing for a terrorist attack by buying a sword, knife and combat clothing.
His brother Muhamed Abu, 32, denies knowing what Sahayb was planning and failing to report him to the police.
They are on trial at the Old Bailey.
The court heard Sahayb had written that Islam was about "killing infidels".
Prosecutor John McGuinness QC told jurors that the brothers had "extremist views and violent mindsets" and that they supported the "beliefs, the aims and methods of Islamic State".
The court heard that one audio message Muhamed, from South Norwood, south London, had sent his younger brother contained a rap saying: "Let's get merky, let's get hurty, I've got got bombs that are just worthy… I will attack man."
The court was told that "merky' meant killing people.
Sahayb, from Dagenham, replied with a rap, saying: "Got my under armour on, cos I gotta stay strong.... I'll be sending bombs and you'll be getting smoked."
The rap continued: "You'll be getting crushed under my boot… I'll send you to the clouds, 10 shots in your chest."
Another rap sent by Sahayb to Muhamed included the line: "I'm trying to see many Lee Rigby's heads rolling on the ground", the court heard.
Jurors were told that Fusilier Lee Rigby was murdered in London in 2013 by two Islamist extremists.
Mr McGuinness said Sahayb's preparations for a terror attack included buying a sword, a knife, balaclavas, fingerless gloves and a combat vest.
When buying the vest he had asked the seller if it "could stop a bullet", Mr McGuinness added.
Commenting on a YouTube video, Sahayb had written "Islam is for war, hostage-taking, killing infidels", the court heard.
It is also alleged that Sahayb forwarded messages to himself containing quotations that stated the killing and the spilling of blood of the "kafir" - unbelievers - was permissible.
The court heard Sahayb had regularly searched online for the Islamic State (IS), researched embassies in London and looked up the date of the Manchester Arena bombing.
Both defendants were arrested on 9 July last year.
Sahayb denied being an IS supporter during a police interview.
He said he had searched for IS as he wanted to find out what had happened to two of his other brothers who were reported as having travelled to Syria in 2015.
Jurors heard he told police he had a combat vest, balaclavas, gloves and a hat because he parodied rap or drill videos.
He had said ordered a sword because it "looked cool", the court heard.
He also told detectives he bought it because he wanted to slice a bottle in two and because he had seen videos of people splitting pigs in half.
Jurors were told Sahayb had posted comments on an "extremist chat group" on the Telegram app which already contained an undercover police officer.
Sahayb told officers he joined the group chat to "flirt with girls", "act macho and probably woo a sister", and to "show how much of a clever clogs I was", the court heard.
Muhamed told the police IS was "a cancer, a tumour that needed to be excised from the face of the earth", jurors were told.
Related Internet Links
The BBC is not responsible for the content of external sites.