London Ambulance Service: 'We take thousands of calls every day - it's tough'
By Thomas Mackintosh
BBC News, London
Last week London exceeded the grim milestone of 10,000 deaths linked to Covid-19. Thousands of people are critically ill in hospital, and as many as 5% of Londoners are thought to have the virus in some parts of the city. As coronavirus continues to circulate silently around the capital, staff at the London Ambulance Service (LAS) are under immense pressure.
The service is currently taking up to 8,500 calls a day, compared with a pre-Covid figure of 5,000 to 6,000, according to its chief executive Garrett Emmerson.
Lizzie Cooke is one of the workers at LAS's south London headquarters who are dealing with strangers at what is a distressing time.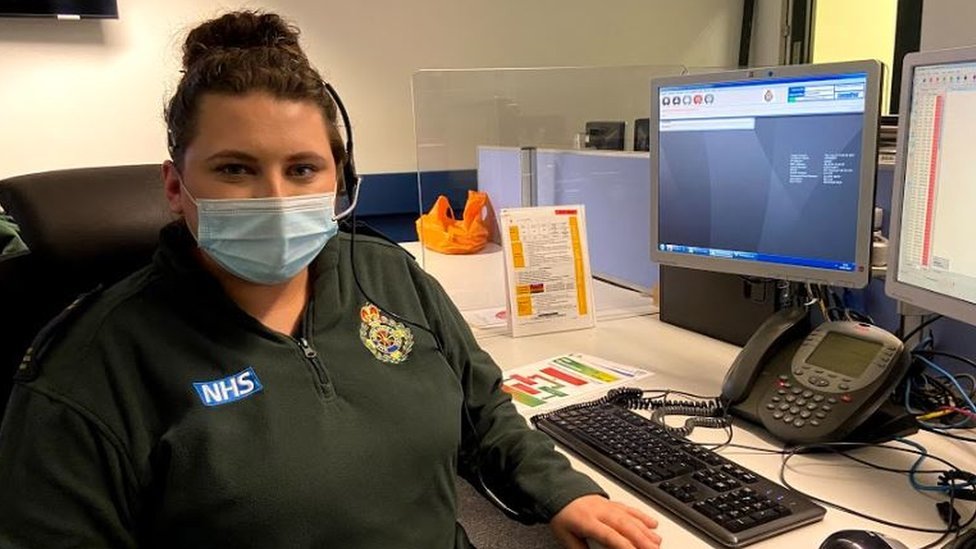 BBC
I covered the London Bridge terror attacks and Grenfell but this is a different scale
Calmly, the 30-year-old answers the phone and usually asks first if the patient is breathing.
"In the first wave we were getting a lot of calls of [people seeking] reassurance," Lizzie says. "But now there are more and more who have symptoms, and family members are really frightened."
It is a fear that Lizzie knows all too well, having been hospitalised with Covid-19 in March. She spent a week receiving treatment for the virus.
"I was at work taking calls and struggling to concentrate," the call-handling supervisor says. "At times I would just have my head on the desk in between calls.
"I started to develop chest pains five days later so my parents took me to Royal County Hospital, in Hampshire, and an X-ray showed a lot of fluid in my lungs. It was quite horrible.
"Luckily, I wasn't on a ventilator but I had the oxygen hood, and the nurses were so rushed off their feet. I didn't have my phone with me or know my parents' numbers off by heart so for that week I was quite alone and isolated.
"It was just a mixture of the unknown and not knowing when it was going to stop that was so daunting."
Lizzie's personal battle with coronavirus has helped her to empathise with people who call up with breathing problems.
It's something she says she's having to do more and more.
"Just before Christmas we were getting a lot of respiratory and cardiac arrest calls," she says. "You could just hear colleagues counting to four [for chest compressions] and it was echoing around the room. It has been tough.
"We are getting calls from family members who are really frightened. I covered the London Bridge terror attacks and Grenfell but this is a different scale.
"I did get one call for toothache, but that's part of the job."
Lizzie, who lives in Hampshire, says that because the coverage of coronavirus is everywhere, it is "difficult to escape".
When she's not at work she binge-watches Line of Duty on Netflix, but she says winding down isn't easy.
Lizzie sometimes thinks about the people who aren't following the rules aimed at helping stop the spread of the virus, and those who deny Covid-19 even exists.
"It's a kick in the teeth," she says. "It is frustrating on the way to work when you see people not wearing masks or even posting stuff on social media not believing the virus is real.
"I just don't know where the disconnect is coming from; there are many people in hospital, many people dying, and I don't know what more needs to be said to make them realise how dangerous the illness is."
Sorry, your browser cannot display this map
Sitting a few metres away from Lizzie is 24-year-old Louise Essam, who has been in the job for two years.
"Every call we take at the moment is coronavirus," she says. "My record was 108 calls in a day back in March during the first wave.
"But easily in the last few weeks I've been taking around 100 a day at times," Louise adds.
"Sometimes I'll come in for a shift and can just hear colleagues counting one, two, three, four, for the compressions, and you just know what kind of shift it is going to be.
"It has been tough and quite frustrating, really. We are trying to help people. We are under so much pressure as there are high waiting times, but we are just doing the best we can."
Help is at hand though from the LAS workers' fellow emergency services personnel.
Seventy-five Met Police officers are currently being trained at Wembley Stadium to drive ambulances.
They will start work as drivers from 20 January, joining the 200 firefighters who are already helping LAS.
"It came as a huge relief when they announced it," says 37-year-old paramedic Ben West.
As is the case with many frontline workers, Ben says he is concerned about the dangers of exposure to coronavirus.
He has lost four colleagues to Covid-19, including Ian Reynolds, a paramedic based in Croydon, and Melonie Mitchell, a member of the NHS 111 team. They both died during the first wave in April.
"I wouldn't be a normal person if I said I wasn't scared," he says.
"I am scared and I do worry but we take every day as it comes, take our precautions and we just see where we go with that.
"We know the virus is out there in the community and we are not immune."