Boy guilty over Oxford Street racist coronavirus attack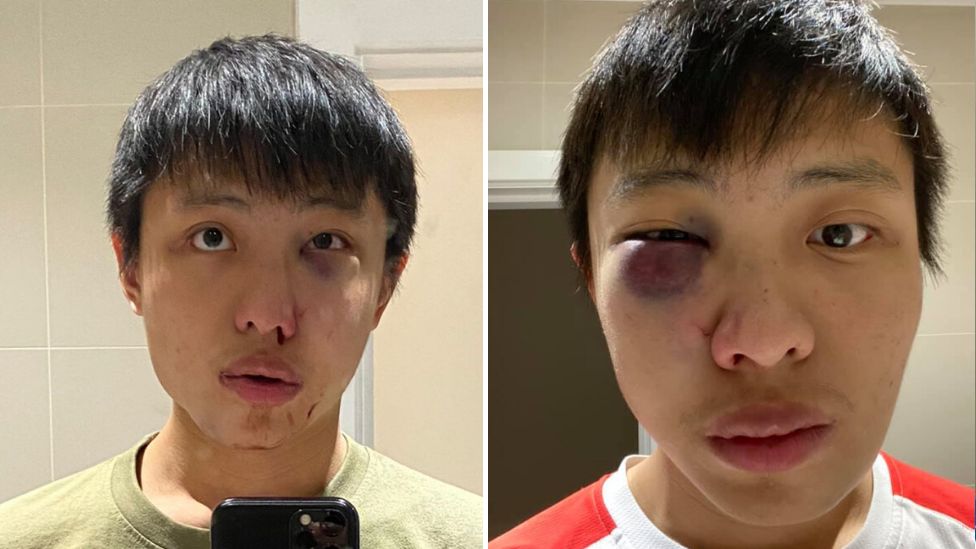 A 15-year-old boy has been found guilty of racially attacking a Singaporean student who was told "I don't want your coronavirus in our country".
Jonathan Mok, 23, was beaten up on Oxford Street in London on 24 February.
But he went on to be tried for racially aggravated grievous bodily harm, which has concluded with his conviction.
At Highbury Corner Youth Court, chairwoman of the bench Lesley Ward said the attack had been "unprovoked and racially motivated".
X-rays showed the victim had suffered a complicated fracture to his nose and also to his cheekbone.
During the teenager's trial in December, he said he had not mentioned coronavirus and denied he was a racist.
But the court heard that several people had heard the word "disease" or "coronavirus" from a few metres away.
Ms Ward said the evidence showed the teenager's account was not believable.
She added: "Given the number of witnesses and your proximity to the incident, we feel it's not plausible that you missed the racist term being used and it's therefore difficult to believe your version of events."
The youth, who cannot be named for legal reasons, was released on unconditional bail and will be sentenced at Highbury Corner Youth Court on 27 January.
He had initially been due to be sentenced in September at Highbury Corner Magistrates' Court after admitting wounding and causing GBH without intent when he appeared before the court the previous month.
It was disputed whether or not the attack on Mr Mok was a hate crime, and his defence barrister Gerard Pitt pointed out the boy was not charged with racially aggravated assault.
But after the August hearing, the Crown Prosecution Service's Daniel Kavanagh said the attack had been "vicious and completely unprovoked" and that Mr Mok was "clearly targeted in this hate crime because of his ethnic appearance".
The court had heard how UCL student Mr Mok turned around around after a friend of the boy made a remark about coronavirus towards him.
The defendant's friend then said "don't you look at me" before punching Mr Mok in the face without warning, the court was told.
Mr Mok described how the 15-year-old boy joined the attack, punching and kicking him, telling him: "I don't want your coronavirus in my country."
After the conclusion of the criminal case on Monday, a spokeswoman for the CPS said there was a "continuous duty to keep our cases under review" and that "after a further review of this case, we laid a further charge".
Related Internet Links
The BBC is not responsible for the content of external sites.