Covid-19: London Ambulance Service receives as many 999 calls as first wave
By Dr Faye Kirkland and Noel Titheradge
BBC News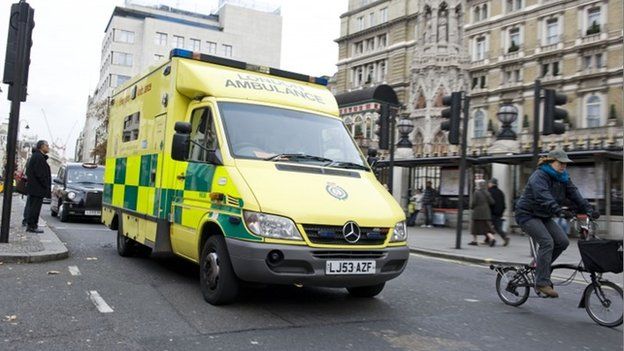 London Ambulance Service (LAS) received as many emergency calls on 26 December as it did at the height of the first wave of Covid-19, the BBC has learned.
Nearly 8,000 calls were received, a 40% increase on a typical "busy" day.
Patient demand was "now arguably greater" than during the first wave, an internal message to all staff said.
LAS said it was "working urgently" to reduce delays. It urged people only to dial 999 with genuine life-threatening emergencies and to use 111 if possible.
The rapid spread of the new variant of Covid-19 was said to be the cause of the increased demand, according to the message.
One London paramedic told the BBC that some patients were being treated in ambulance bays upon arrival at hospital, due to a lack of beds inside.
"It's been a horrendous time," the paramedic said. "Ambulance staff are finding the whole situation very stressful."
Figures seen by the BBC show that at one London hospital on Sunday morning, ambulance crews were typically waiting nearly six hours to hand over patients to hospital staff.
Levels of patient demand were equal "and now arguably greater" than those seen during the first wave of the pandemic, according to the all-staff message sent by LAS chief executive Garrett Emmerson.
On 26 December, LAS received 7,918 calls, while on 16 March - one of its busiest ever days - it received marginally more.
"The demand is occurring because of the rapid spread of the new variant of the Covid-19 virus, initially in north-east London, but now spreading into north central London and predicted to spread further across the rest of the capital in the coming days and weeks", the memo read.
The NHS 111 service was twice as busy as usual in London, the message added.
London Ambulance Service said it was working to find ways of alleviating pressures.
It said private ambulance services, student paramedics, volunteers and the London Fire Brigade had been recruited to supplement its crews in order to provide as many ambulances as possible with two staff members.
LAS was also receiving assistance from South Central Ambulance Service (SCAS), East of England Ambulance Service and St John Ambulance.
Non-patient facing colleagues with clinical skills have also been moved to work frontline shifts.
A separate message sent to ambulance crews on 26 December requested them, when it was safe to do so, to transport all patients to hospital on blue flashing lights in order to "reduce travel times".
Usually only the most seriously unwell patients are taken to hospital in this way.
In a statement, LAS said: "Like NHS organisations across the country, demand for our services has risen sharply over the past weeks.
"Our colleagues in emergency departments are also under pressure receiving our patients as quickly as they can. We are working urgently with NHS partners to reduce any delays.
"The public can support us by only calling 999 for life-threatening emergencies. For urgent medical advice go to: 111.nhs.uk."
On Sunday, it reported another 9,719 infections.
Related Internet Links
The BBC is not responsible for the content of external sites.