Covid: Christmas Tier-4 heartbreak for Londoners
By Sam Francis
BBC News, London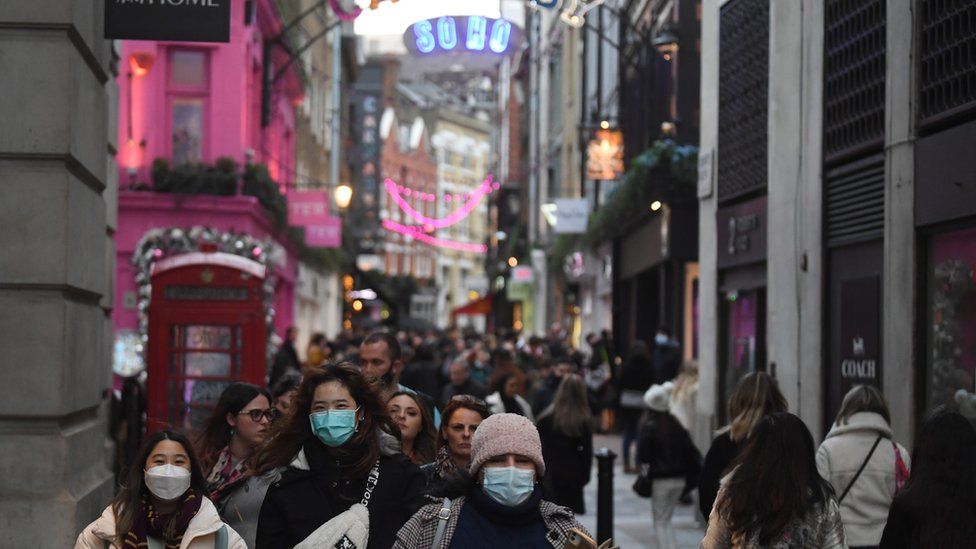 Millions of people across England have been banned from meeting friends and family indoors over the festive season as they enter a new tier-four level of Covid restrictions, while indoor mixing has been restricted to Christmas Day alone for the rest of the country.
The measures were announced by Prime Minister Boris Johnson, who cited the need to try to stop the spread of coronavirus as a new variant leads to a spike in cases.
The new tier-four restrictions are being imposed in London, Kent and Essex and other parts of the South East. What has been the reaction to the news about Christmas gatherings?
All of London has gone into tier 4 and I can't see my family for Christmas😪

— Kiren Kaur (@miissk_x) December 19, 2020
Ceyda Oz, 24, told the BBC she was "heartbroken" by the news.
Ms Oz, who worked in retail until she recently fell ill, said: "I've had a horrible, horrible year.
"This one day was going to be a day to forget about everything, to spend time with my family who I haven't seen in months.
"My grandparents are just as devastated. They had spent hours decorating the house and organising food, all for nothing."
Jack, a 29-year-old marketing manager, had planned to travel from his home in Fulham, south London, to see his family in the Midlands.
Jack said: "We'd made big plans based off of the government's advice all last week.
"We've been isolating for over a week. We even paid for a private Covid test so we could be sure we didn't have coronavirus before seeing my family.
"Now we're pretty screwed. We don't even have a Christmas tree.
"If we're going to have any sort of Christmas at all, we have to go to a supermarket in the middle of a coronavirus hotspot to get our Christmas meals in. "
Mr Johnson announced the changes for England at a Downing Street briefing after scientists said a new coronavirus variant was spreading more rapidly.
Tier-four restrictions will apply in all tier three areas in the South East, covering Kent, Buckinghamshire, Berkshire, Surrey (excluding Waverley), Gosport, Havant, Portsmouth, Rother and Hastings.
They will also apply in all 32 boroughs of London and the City of London. In the East of England, Bedford, Central Bedford, Milton Keynes, Luton, Peterborough, Hertfordshire and Essex (excluding Colchester, Uttlesford and Tendring) all move into tier four.
Social mixing will be restricted to meeting one other person from outside your household, and this must only be in an open public space.
An estimated 8,300 people in London tested positive for Covid-19 on 12 December - more than double the week before.
Latest figures show the infection rate in London across London was 425.65 cases per 100,000 population in the week leading up to 14 December.
Two Kent districts are among the top five in England for Covid-19 infection rates. Medway has a rate of 831.1 cases per 100,000 people.
Mayor of London Sadiq Khan said: "These further restrictions are a bitter blow for Londoners who were hoping to spend time with loved ones safely this Christmas.
"London faces its toughest Christmas since the war and the whole city will need to pull together to see us through this terrible period.
"It would be such a tragedy to lose even more people to this disease when the vaccine is now being rolled out across our city and those lives could be saved."
Tudor Price, deputy chief of Kent Invicta Chamber of Commerce, said the new restrictions for the county were "disappointing" but "not surprising".
Mr Price said: "It's the worst of all possible situations from a business point of view but understandable from a public health point of view."