E-scooters: Sharp rise in crashes in London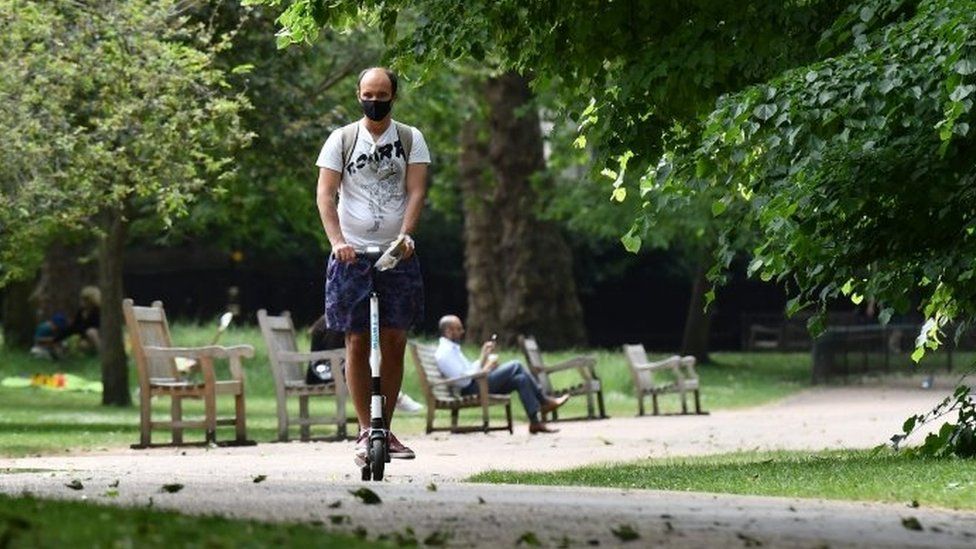 The number of crashes involving e-scooters in London is rising sharply, figures from the Met Police suggest.
Ch Supt Simon Ovens said e-scooters were "an attractive mode of transport" but "remain notoriously dangerous".
The Met said the illegal usage means e-scooter crashes were "underreported". In 2018 there were four recorded collisions, by the following year it had risen to 32.
It remains illegal to drive an e-scooter in public areas and on roads.
In 2019, TV presenter and YouTuber Emily Hartridge died after her e-scooter hit a lorry in Battersea.
At an inquest into Ms Hartridge's death, a coroner concluded "the scooter was being unsuitably driven, too fast and with an underinflated tyre and this caused the loss of control and her death".
Figures also show the Met has seized 268 e-scooters and issued 604 warnings to riders - some of which have reached speeds of up to 70mph (110 km/h).
Ch Supt Owens said: "There is no test required to be able to ride one which means people often do not have an understanding of the road awareness; they do not wear a helmet or have lights on them so riding one means they are putting themselves and others at risk, especially at this time of year with the early evenings."
Related Internet Links
The BBC is not responsible for the content of external sites.