Croydon Council bans new spending under Section 114 notice
By Thomas Mackintosh
BBC News, London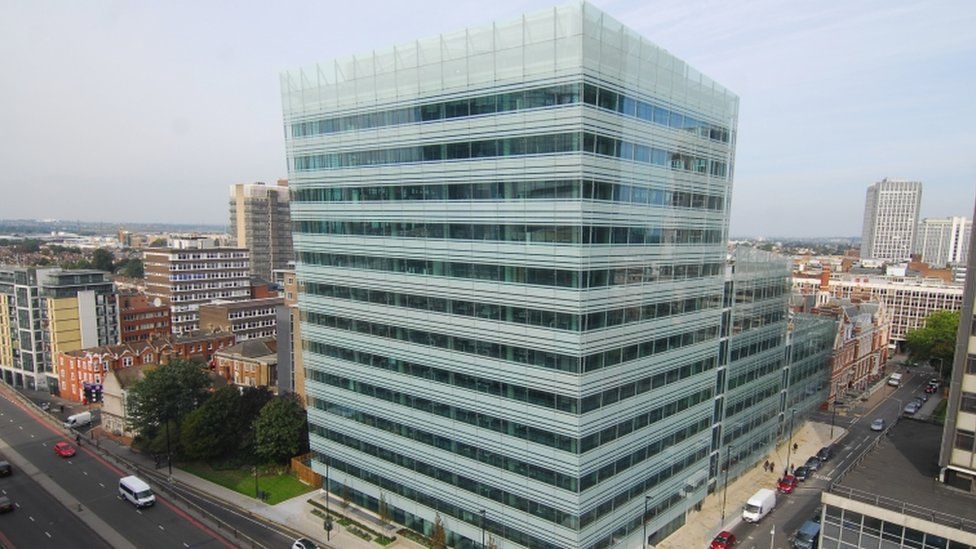 Cash-strapped Labour-run Croydon Council has imposed emergency spending restrictions with "immediate effect", the BBC has learned.
The Section 114 notice bans all new expenditure at Croydon Council, with the exception of statutory services for protecting vulnerable people.
A document seen by the BBC said "Croydon's financial pressures are not all related to the pandemic".
It is under a government review amid claims of "irresponsible spending".
Section 114 notices are issued when a council cannot achieve a balanced budget.
In June, the BBC found many large councils in England feared going effectively bankrupt because of the Covid-19 pandemic.
To cope with coronavirus, councils revealed they were planning a mix of responses including using up cash reserves, reducing services and cancelling or postponing spending on big projects.
The Section 114 letter, which was sent by Croydon's director of finance Lisa Taylor, said she was not confident the council "can make the level of savings required to deliver a balanced budget".
"Despite the council having put in place spending controls over the summer 2020, non-essential cost have continued to be incurred," she said.
"I am still not seeing an organisation that is taking the necessary radical decisions to stop all but essential expenditure."
The document also says £17.7m of the £27.9m of the "new savings" presented to Croydon's cabinet on 21 September and the full council meeting on 28 September were "incorrectly identified as new savings".
As a result it forecasted that overspend "had not reduced by as much as previously reported".
Last month, Croydon's cabinet member for finance Simon Hall resigned from his role, while former council leader Tony Newman announced his departure a few days later.
Both resignations came two weeks after the pair survived a vote of no confidence proposed by the Conservative opposition.
Councillor Hamida Ali, who took over as leader, accepted that the council "had made mistakes" in addition to the impact of coronavirus.
"While we continue to work hard to find savings, we must focus our spending on essential services and protecting our vulnerable residents," she said.
"We're not going to fix these problems overnight and there will be difficult decisions ahead but I want to reassure local people that the council will still be here to support you."
Croydon's chief executive Jo Negrini also announced in August that she would be stepping down.
The council's Conservative opposition leader Cllr Jason Cummings said the report was "scathing" and he had fears local residents "would suffer most".
He added: "Labour were warned repeatedly over the last few years but ploughed on anyway, they must take full responsibility for the damage they have caused."
The Ministry of Housing, Communities and Local Government said Croydon's decision was "necessary" for it to manage its own finances.
"The council has decided to issue a section 114 notice and we will consider the findings of the review which concludes later this month."
By BBC London's political correspondent Tim Donovan
It's not often a council needs to issue a Section 114 - but the pressures of coping with coronavirus have combined with at least questionable previous investment strategies to push Croydon over the edge.
It was heading for an overspend of £60m at the end of the year from dealing with the pandemic and government support didn't look like covering it.
Croydon went into the coronavirus health crisis in a vulnerable state - with depleted reserves and £1.5bn debts.
It's a financial position partially reached through buying up property including a hotel and a shopping centre.
In good times, it's easy to see how that might have paid dividends but with weeks of lockdown, it left the council seriously exposed.
The latest development means new spending must be stopped immediately except for on statutory services like social care.
Now the council's administration has 21 days to come up with a strategy which looks likely to mean more job losses to add to at least 400 already being cut.
Related Internet Links
The BBC is not responsible for the content of external sites.