Covid-19: London restrictions could increase 'within a week'
London could be put in a stricter lockdown within days, Mayor Sadiq Khan has warned.
The government unveiled a three-tier system of restrictions for England on Monday to try to stop Covid spreading.
London is in Tier One, the lowest level, and will be subject to national rules including the rule of six and the 22:00 curfew on hospitality venues.
"Londoners should understand that this could change very quickly - potentially even this week," the mayor said.
Mr Khan said he speaks to council leaders and Public Health England on a daily basis to analyse the data and confirmed the capital has seen 8,000 new cases of Covid.
"We are seeing hospital admission rate increase because of Covid-19," he told the BBC. "I am also worried about non-coronavirus patients who need medical assistance, but who may not get treatment because the NHS is overwhelmed."
Mr Khan backed the concept for use in London "for two or three weeks" as half-term approaches.
He said: "I think for a short period of time having additional restrictions to stop the virus spreading and dealing with it is far more effective in the medium-to-long term.
"If we are not careful we could be sleepwalking into three, four or five months of really strict restrictions which could be avoided with this circuit breaker."
The leader of Southwark Council also backed calls for a short, sharp lockdown to be implemented this month.
Labour's Kieron Williams said: "With positive cases rising at worrying speed in Southwark and across London, I'm calling on the government to urgently implement a circuit breaker.
"It's imperative that we follow scientific advice without delay, or we will be risking people's health.
"There is no way to dress up the facts here - we are at a critical point and without immediate action, people in Southwark will needlessly die.
"I know what a worrying time this is for our residents and businesses, but a short period of tighter restrictions could be less painful to the local economy and to families than something which essentially draws the process out for longer and risks future lockdown over Christmas as cases continue to rise."
What are the restrictions?
Areas with the lowest rates of infection are in Tier One. They will face the basic national rules currently in force including:
Pubs, bars and restaurants must close at 22:00
The rule of six (number of people who can meet up) applies both indoors and outdoors
Areas in Tier Two face an extra level of restrictions:
No mixing between different households in any indoor setting
The rule of six only continues outdoors
The highest level of restrictions are in Tier Three:
Pubs and bars are closed, except where serving substantial meals
Households cannot mix in any circumstances
Gyms, leisure centres, betting shops and casinos must also shut
Shops, schools and universities will remain open
Covid-19 has been spreading far slower in London's compared to areas in Tier-Two lockdown.
London's infection rate is roughly what other large cities currently in Tier-Two lockdown saw a month ago.
In the week to 9 October, the infection rate across London was 77.8 cases per 100,000 population.
Newcastle has a rate of 72 infections per 100,000 in the week to 11 September. The figure has now increased to 500 cases per 100,000 as the virus spread.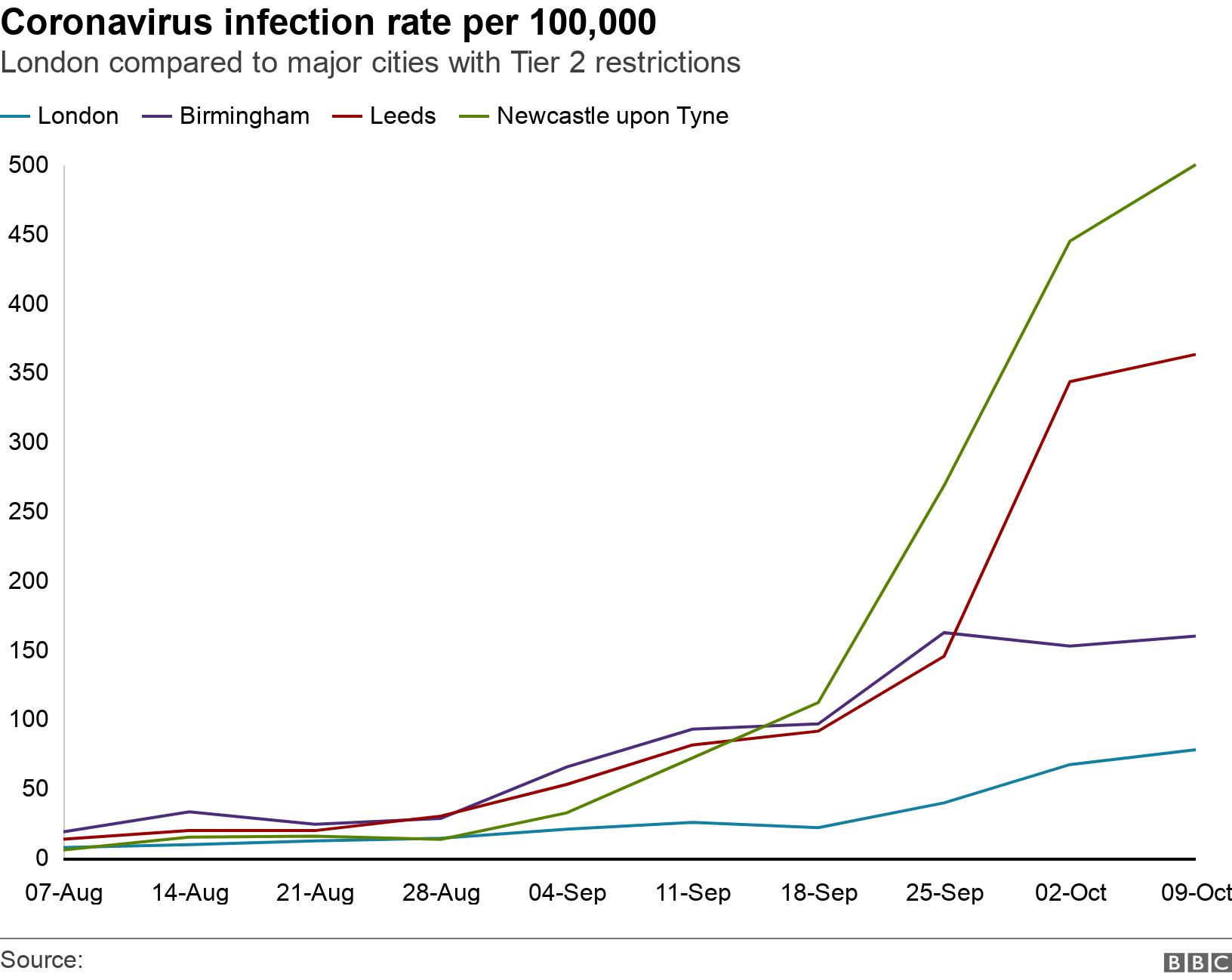 Liverpool City Region, where infection rates have breached 600 cases per 100,000, is currently the only area facing Tier Three restrictions.
In London, there are currently 338 people in hospital after testing positive for coronavirus.
In hospitals in the North West of England there are 1,218 cases.
While in hospitals across the North East and Yorkshire there are 914 cases of Coronavirus.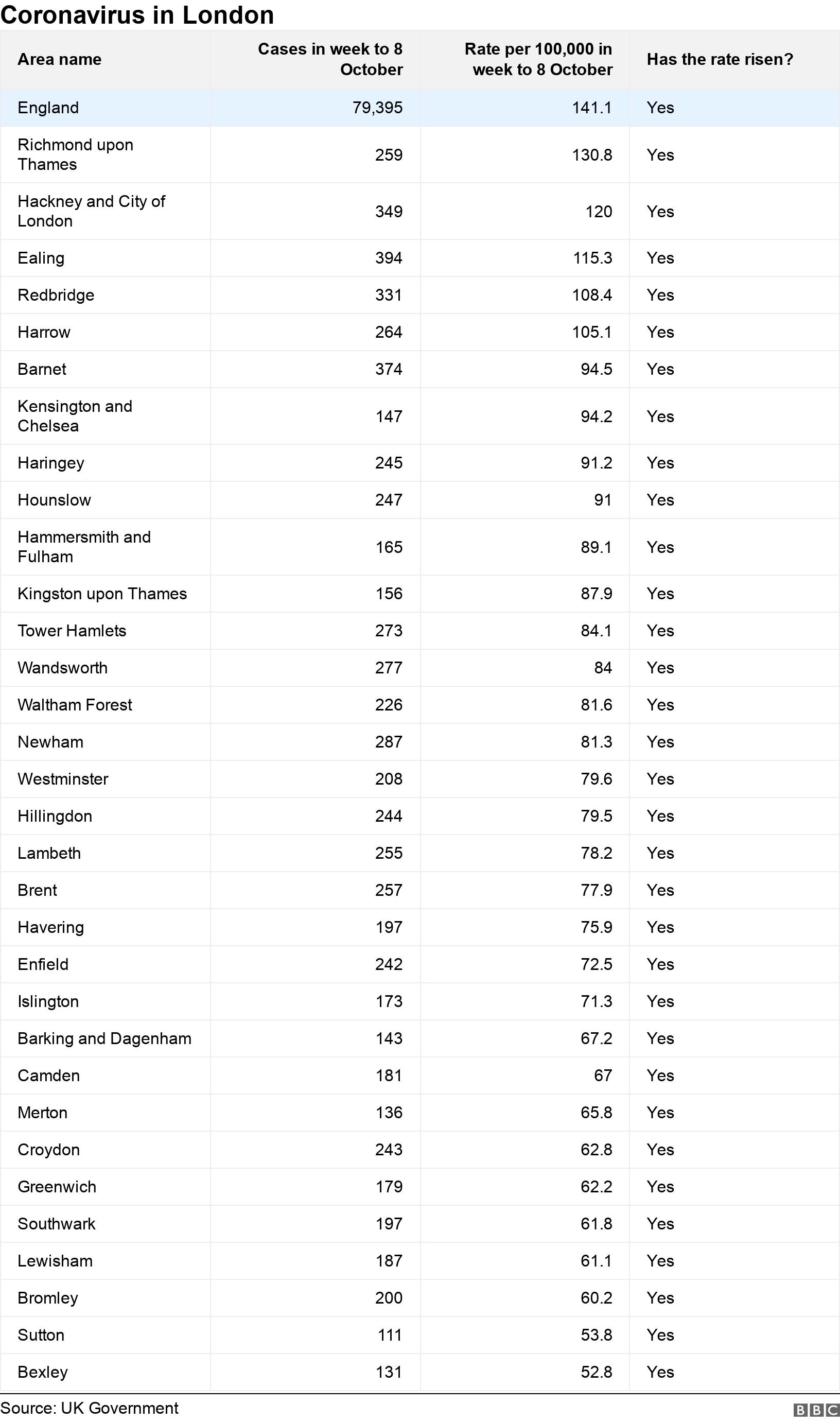 The locations under the rules would be reviewed every 14 days with the regulations themselves reviewed every 28 days.
Find out what the rules are in your area by entering your postcode below.
If you cannot see the look-up click here.