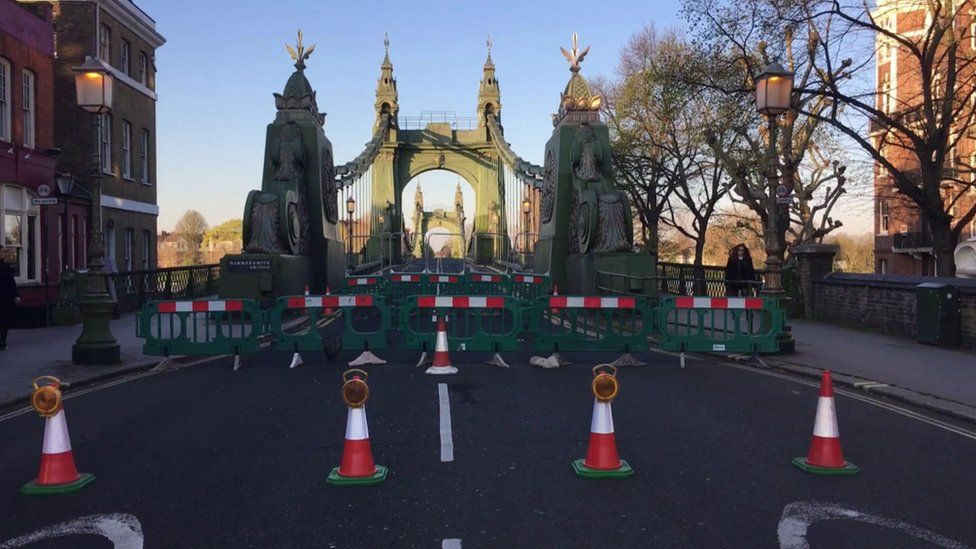 The government's new Hammersmith Bridge Taskforce has proposed a ferry across the Thames by "early next year".
It will take this long for Transport for London (TfL) to put the buying of a new ferry out to tender and for many residents that is simply not quick enough.
The closure comes after temperatures surpassed 34C in central London for several days last summer - the first time that has happened since at least 1961.
Some have already submitted unsolicited proposals for ferries at Hammersmith.
One suggests using amphibious vehicles. One using a fleet of small boats.
Thames Clippers and Beckett Rankine, a marine engineering firm, say they can run two vessels 16 hours a day - carrying up to 1,200 people an hour in each direction.
Cycles and wheelchairs will also be able to use the service, they say.
To put that in context, up until 10 April 2019 Hammersmith Bridge carried 22,000 motor vehicles a day.
And until it was closed in August to pedestrians, 16,000 walkers and cyclists used it each day.
The ferry route would go from Queens Wharf on the north side to River View Gardens on the south.
The proposals could take about two months to get in place.
Pier pontoons could deal with the tidal drop.
Two "guard boats" at the bridge could be costing Hammersmith and Fulham Council more than it would cost to run the ferry service, it has emerged.
Many will wonder why a long tender process is needed when solutions have already been identified and the need is so pressing.
As ever, there seems to be no easy or quick answers in the embarrassment that is Hammersmith Bridge.
A TfL spokesperson said: "TfL is part of the Hammersmith Bridge Taskforce, which is chaired by the Department for Transport and attended by Hammersmith and Fulham Council and other stakeholders.
"The taskforce is still to decide how a potential ferry service at Hammersmith would be best procured.
"However, given our experience with operating services and infrastructure on the River Thames, we are providing information and advice so that a solution can be found quickly and for procurement to commence as soon as funding has been identified."