Coronavirus: Boy sentenced for racist street attack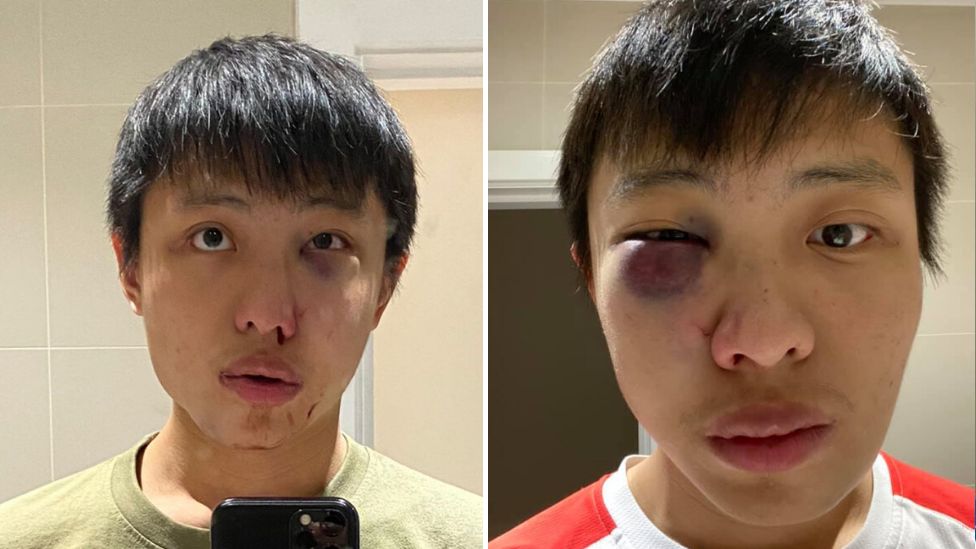 A 16-year-old boy has been sentenced for racially attacking a Singapore student who was told "we don't want your coronavirus in our country".
Jonathan Mok was beaten up on Oxford Street last February by a group of boys in an "unprovoked attack".
The chair of the bench gave the boy an 18-month youth rehabilitation order.
He was also ordered to wear an electronic tag, follow a curfew order between 20:00 and 07:00 for 10 weeks and must pay £600 compensation to Mr Mok.
Chair of the bench Mervyn Mandell warned that had he been an adult he "would have gone to jail for a very long time".
"This was an unprovoked attack for no reason other than his [Mr Mok's] appearance," he said.
Mr Mok, 23, suffered a complicated fracture to his nose and cheekbone which required surgery, screws and stitches.
Images of his swollen eye were shared widely on social media following the attack.
The court heard previously how the UCL law student turned around after a friend of the attacker made a remark about coronavirus towards him.
Witnesses described a "commotion on the street" where Mr Mok and his friend were "confronted by a group of white males".
They heard someone shout "you are diseased don't come near me".
Mr Mok was then punched in the face. The teenager joined the attack and continued to punch and kick Mr Mok.
Prosecutor Simon Maughan said the teenager was "quick to get involved" in the group attack.
'Anxiety and sleep problems'
A victim impact statement read out on behalf of Mr Mok said the crime had "taken a heavy toll" on him and his family.
He added: "My legal education had to be halted for a month due to surgery and follow up medical appointments.
"I have anxiety and have problems sleeping. I believe the defendant is a threat to Singaporeans and South East Asians. He has shown no remorse."
The teenager's defence barrister Gerard Pitt said the boy handed himself in following a police CCTV appeal last March.
No-one else has been charged in connection with the attack.
Mr Pitt said: "He has always maintained he did not say anything about coronavirus and that was vindicated at the trial."
The court heard Mr Mok could not be 100% sure the defendant was the boy who said anything about coronavirus.
The boy had no previous convictions, but had two youth cautions for common assaults, the court was told.
Before being sentenced the teenager said: "When I saw the picture I felt disgusted.
"I apologise for my actions."
Related Internet Links
The BBC is not responsible for the content of external sites.