Coronavirus: 'Pay your staff' scrawled on Wetherspoon pub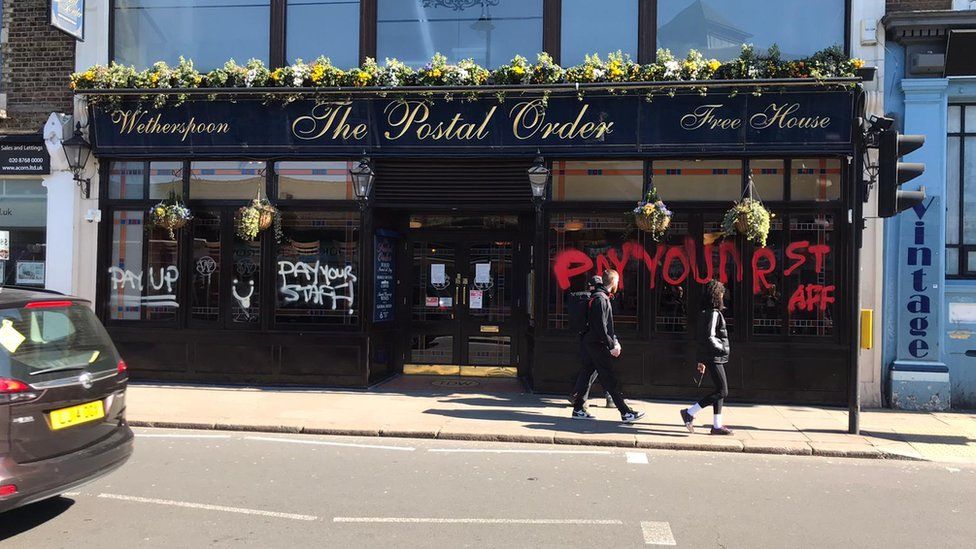 The words "pay your staff" have been scrawled across the windows of a Wetherspoon pub in south London.
All of the chain's 850 UK pubs were closed by the government announcement to shut bars and clubs to stop the spread of coronavirus.
But, on Wednesday afternoon Wetherspoon announced it would be paying its staff.
Mr Martin said following discussions with UK Hospitality chief executive Kate Nicholls, the company would be introducing a scheme to pay its workers.
Wetherspoon had said it was waiting for the government payment scheme to kick in before paying staff.
"As we have already confirmed, Wetherspoon will pay all our 43,000 staff this Friday for the hours worked last week," Mr Martin said.
"The first payment under the new scheme will be made on Friday 3 April, subject to government approval, and weekly thereafter."
The move comes after the Postal Order pub in Crystal Place was vandalised with red and white graffiti - which the pub chain condemned.
"No-one has the right to vandalise one of the company's pubs," a spokesman said.
The government has said it will pay 80% of salary for staff who are kept on by their employer, covering wages of up to £2,500 a month.
Mr Martin had come under pressure from 95 MPs who signed a petition for him to pay his workers.
Ian Hodson, president of the British Food and Allied Workers Union, had accused Mr Martin of "ignoring the advice of government to stand by" his workers.
Related Internet Links
The BBC is not responsible for the content of external sites.