London Underground driver tests positive for coronavirus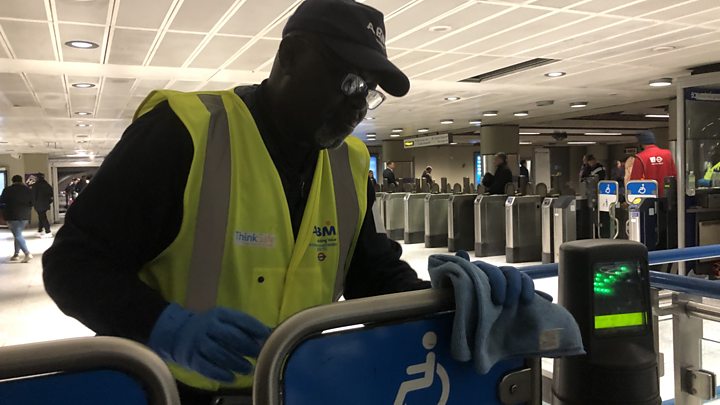 A London Underground train driver on the Jubilee Line has tested positive for coronavirus, Transport for London (TfL) has said.
The driver, based at the North Greenwich depot, had recently returned from a holiday in Vietnam.
It comes as the mayor of London cancelled the upcoming St Patrick's Day celebrations because of the outbreak.
Buckingham Palace has also announced The Queen has cancelled a planned visit to the borough of Camden on 26 March.
A spokesman for the Queen, who turns 94 in April, said: "As a sensible precaution and for practical reasons in the current circumstances, changes are being made to The Queen's diary commitments in the coming weeks.
"Audiences will continue as usual. Other events will be reviewed on an ongoing basis in line with the appropriate advice."
Sadiq Khan said he had been left with no choice but to call off the annual St Patrick's Day parade, which had been due to take place in Trafalgar Square on Sunday.
Official St Patrick's Day events have been held in London since 2002 and attract more than 50,000 people.
Birmingham's St Patrick's Day parade, which claims to be the third biggest in the world and attracts crowds of up to 100,000, has also been cancelled.
The election for the next mayor of London, scheduled to take place in May, has been postponed until next year.
Mr Khan also warned that "things will get worse before they get better" and "more deaths" were to be expected.
Closing public transport would be "unsustainable", the mayor added.
The Tube driver is self-isolating, and the train and depot he worked in is being deep-cleaned, TfL said.
The driver said he had not worked in any public-facing job since returning from Vietnam.
A spokesman added: "The safety of our staff and customers is our top priority and we are taking all necessary precautions.
"The areas where the driver worked are being cleaned, including the depot and the trains, in line with guidance from Public Health England with whom we are working closely."
Find out how many confirmed cases of coronavirus there are in your area:
If you can't see the look-up click here
Elsewhere, King George Hospital in Goodmayes and Queen's Hospital in Romford have had to suspend in-patient surgeries in order to "protect" patients from the coronavirus outbreak.
Earlier Barking, Havering and Redbridge University Hospitals NHS Trust confirmed that a patient in her 60s, who tested positive for Covid-19, died at Queen's Hospital.
The trust said it would still carry out cancer and emergency surgeries, and said it was only allowing parents to visit neonatal intensive care unit and all children's wards.
Heathrow Airport said any passengers flying to the US would have their immediate travel histories checked by their airline before leaving the UK.
The move will come into place from 04:00 GMT on Saturday, and comes after the US government announced there would be a travel ban on 26 European countries.
Deutsche Bank said one employee at its City headquarters has tested positive for the virus, and two London School of Economics (LSE) students have been infected.
Organisers of the London Marathon have postponed this year's event for the first time ever.
It was due to take place on 26 April but has been put back until 2 October.
King's College London has cancelled its spring exams and all field trips abroad, but said that the university would remain open and teaching would continue.
Universities including Regent's University London, Loughborough, Durham, Manchester Metropolitan and the LSE have all said they will offer online teaching instead of face-to-face lessons.
All Premier League football matches have been postponed until 3 April at the earliest, following an emergency meeting in central London.
Arsenal manager Mikel Arteta and Chelsea winger Callum Hudson-Odoi have tested positive for the virus and are in self-isolation.
The English Football League (EFL) has suspended matches in the Championship, League One and League Two, also until 3 April. But National League fixtures are still expected to go ahead.
For more London news follow on Facebook, on Twitter, on Instagram and subscribe to our YouTube channel.