Deliveroo rider stabbed to death in Finsbury Park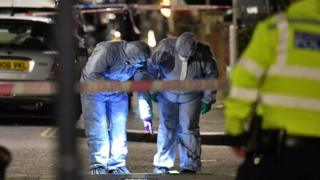 A moped rider thought to be working for food delivery companies Uber Eats and Deliveroo has been stabbed to death in north London.
The 30-year-old man was attacked in Charteris Road, near the junction with Lennox Road, Finsbury Park, shortly before 19:00 GMT on Friday.
No arrests have been made, but police believe there was a row with another driver.
Det Ch Insp Neil John said the stabbing appeared to be "spontaneous".
Deliveroo confirmed the victim worked for the company, while Uber Eats said it was "looking into it".
On Saturday delivery riders gathered in nearby Stroud Green Road said the stabbed man had been the victim of a road rage attack.
One delivery driver said the victim was a 30-year-old Algerian known as "Taki", although he was unsure of the English spelling.
A man who said he was a friend of the victim said: "He was a good man.
"He doesn't make any trouble - he works and he goes home and he ends up being killed while he's working."
He added: "It's not safe to work by yourself any more - what can you do?
"If someone comes at you with a knife you give them what you have or they are going to stab you."
Another 23-year-old rider, who gave his name as Paul, said: "Taki was a nice guy. He was a gentleman.
"I would talk to him every day. He always said hello."
Fatal stabbings in London
2014 - 2019
Last year, 95 people were stabbed to death in London, according to police statistics.
Islington Council leader Richard Watts tweeted: "I'm horrified to hear about this appalling crime".
He added: "What an awful start to the new year."
Reacting to the stabbing, Labour leader and Islington North MP Jeremy Corbyn called for better protection for delivery drivers.
He said: "I am totally shocked. This is a very close-knit community, and this is yet another stabbing on the streets of London.
"People should not be carrying knives. A human life has been taken.
"There are a lot of people working as delivery drivers, they must have better conditions of employment and employers must take more responsibility for their safety too.
"Delivery drivers do a great job in London all of the time. Yet they are vulnerable. They are often on zero hours contracts, yet the food they are carrying is insured.
"So the delivery driver is less valuable than the food they are carrying - we need to end the whole culture of gig employment."
The Met Police said the victim's next of kin had been informed and a post-mortem examination would be held in due course.