London Bridge attack: 'Amazing heroes' praised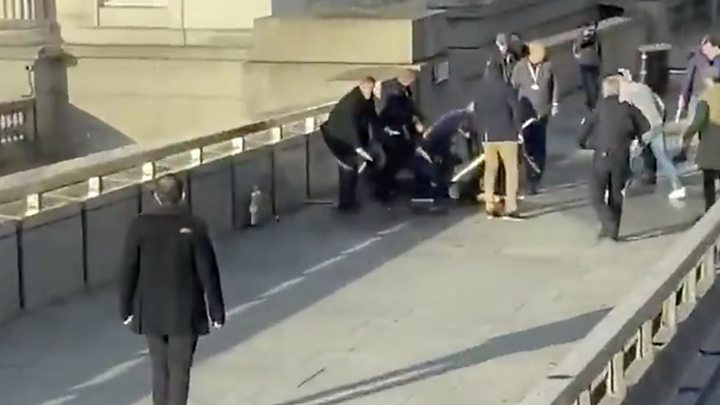 Passers-by who tackled a man wielding a knife on London Bridge have been praised as "amazing heroes".
The man had stabbed two people to death and wounded three others in a terror-related attack.
Footage on social media shows the knifeman being held down by members of the public before firearms officers intervene and shoot him dead.
One man who helped restrain the attacker said they had been trying to dislodge a knife from this hand.
The suspect, Usman Khan, 28, was a convicted terrorist who had been released on licence.
The Queen praised the emergency services and "the brave individuals who put their own lives at risk to selflessly help and protect others".
Members of the public also expressed their admiration for those involved.
George Robarts tweeted about the "bravery" of one man, filmed walking away from the attacker holding a knife.
British Transport Police (BTP) said the man seen holding the knife was a plain-clothes officer.
BTP Chief Constable Paul Crowther, said: "The courageous actions he took when faced with the horrors of this attack are remarkable.
"He, as well as other members of the public, should be extremely proud of what they did to stop this man on London Bridge."
Amy Coop, who was inside Fishmongers' Hall where the attack began, tweeted her praise of a man who went to confront the attacker.
A chef, known as Lukasz, was joined by another man who used a fire extinguisher and let it off in the face of the attacker to try to keep him at bay.
Fishermans' chief executive Toby Williamson said both men thought a bomb might be involved.
He confirmed Lukasz was among the injured, but said he was "doing all right".
"They are two of the most humble people you would know. They would have used their fists if they had to," he said.
He praised all his staff adding they were "determined to level the odds against a madman".
Tour guide Stevie Hurst was one of those who helped restrain Khan on the bridge.
He told BBC 5 live he saw the suspect being held down.
People were screaming that the attacker had "stabbed a couple of women", he said.
"Everyone was just on top of him, trying to bundle him to the ground.
"We saw that the knife was still in his hand... I just put a foot in to try and kick him in the head.
"We were trying to do as much as we could to try and dislodge the knife from his hand so he wouldn't harm anyone else."
Mr Hurst's colleague, Thomas Gray, 24, said he stamped on the terrorist's wrist to try to make him release one of two large knives he was carrying.
The tour manager said: "I was brought up on rugby and the rule is 'one in, all in'. I did what any Londoner would do and tried to put a stop to it.
"He had two knives on him, one in each hand, and it looked like they were taped to his hands.
"I stamped on his left wrist while someone else smacked his hand on the ground and kicked one of the knives away."
It has also emerged that one of the people who helped tackle Khan was James Ford, who in 2004 was jailed in Kent for the murder of 21-year-old Amanda Champion.
'A lot of courage'
Met Police Commissioner Cressida Dick said she wanted to thank the members of the public who helped, "showing extraordinary courage by stepping in to tackle this attacker".
Brendan Cox, whose wife MP Jo Cox was murdered, said: "I hope the front pages tomorrow are full of the stories of the everyday heroes who helped stop the attack, not fixated on the low-life attention seekers who carried it out."
Similarly, Kera Stewart said, rather than see the face of the attacker, she wanted to see the faces of the "brave, heroic pedestrians who took him down, disarmed him and saved people's lives."
On Twitter, Harvey Bateman added: "It takes a lot of courage to do something like that."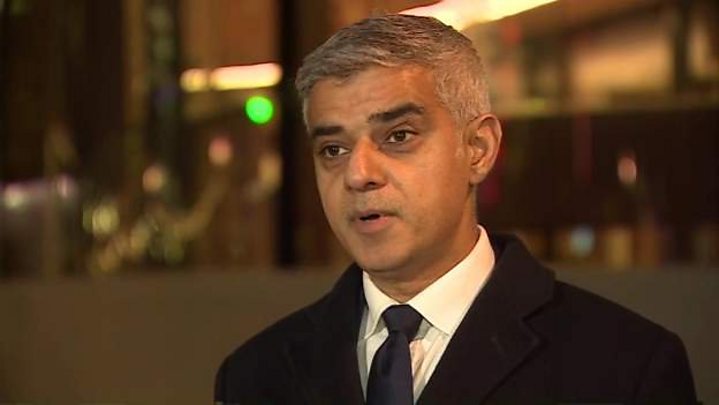 Mayor of London Sadiq Khan and Prime Minister Boris Johnson both offered their thanks to the general public for intervening.
Mr Johnson also praised emergency services while Mr Khan said, "They are the best of us."