London knife crime: Number of teenagers stabbed to death hits 11-year high
By Thomas Mackintosh and Sarah Lee
BBC News, London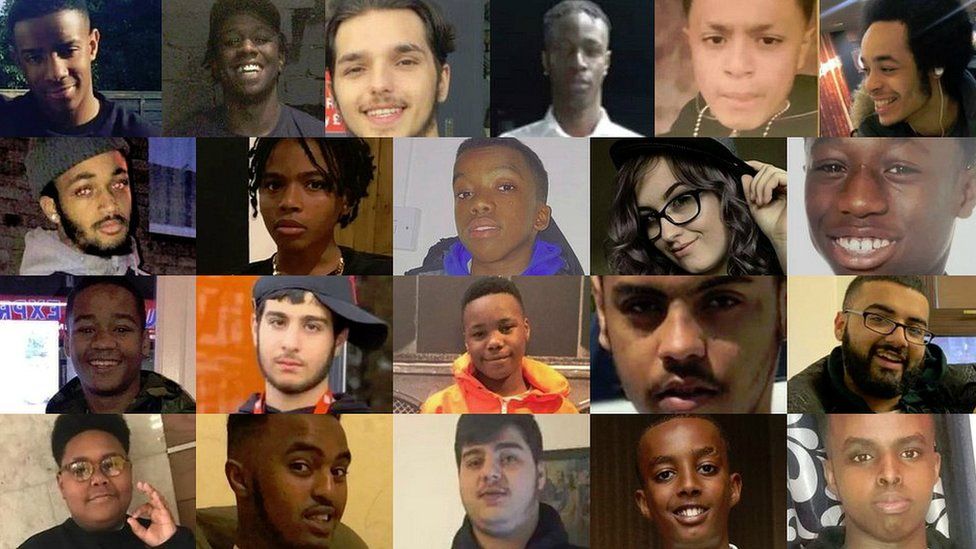 The number of teenagers stabbed to death in London has reached its highest level since 2008, the BBC has found.
Mohammed Usman Mirza, 19, was killed in Ilford on Tuesday night and became the 23rd teenager to be fatally stabbed in the capital this year.
The figure so far for 2019 exceeds the 22 teenagers who were fatally stabbed in the whole of 2008.
The family of Jodie Chesney - one of the 23 victims - described the statistic as "seriously alarming".
He said: "Over 20 teenagers have been fatally stabbed this year and that is shocking to me.
"You read about it and you go 'oh that sucks' but when it is really close to your heart you wonder why are people doing this?"
Jodie's uncle Terry Chesney said: "The 25 teenage murders this year alone, of which Jodie is the only female, is alarming.
"It is proof this knife epidemic is spiralling out of control."
Two other teenagers have been killed this year in cases not involving stabbings.
Eniola Aluko, 19, was shot dead in Plumstead, south east London, on 14 June and on 20 August 18-year-old Amrou Greenidge died of head injuries in Fulham, south west London.
According to BBC research, Jaden Moodie, the first teenager to be stabbed to death in London in 2019, remains the youngest teenage fatal stab victim in the whole of the UK.
Since the start of January, 129 murder investigations have been launched in the capital - 126 by the Met Police and three being led by the British Transport Police (BTP).
While most murder investigations have seen someone charged, only two cases involving teenage murder victims have resulted in convictions.
Earlier this week two teenagers were jailed for life after being found guilty of murdering 17-year-old Jodie when she was in attacked in a park in Harold Hill, east London.
Related Internet Links
The BBC is not responsible for the content of external sites.