Finsbury Park flood: Homes evacuated after pipe bursts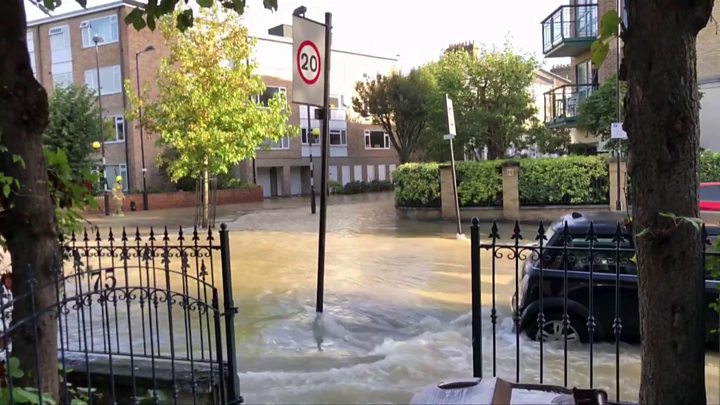 Residents in north London have been evacuated from their homes after a burst water mains flooded a neighbourhood.
Up to 150 homes in the Finsbury Park area were submerged after the 36-inch pipe fractured just before 08:00 BST.
The water, measuring about one metre deep, flooded properties in Queens Drive and Princess Crescent, leading to the closure of a local primary school.
Fire crews had been "leading residents to safety where necessary".
"Firefighters are evacuating residents from affected properties," London Fire Brigade added.
Postcode areas N1, N4, N5, N7 and N19 had either no water or low water pressure until this afternoon.
Thames Water said: "Most customers are now back in supply, but some may still be experiencing low pressure or air locks.
"We expect to bring the remainder of customers back into supply later today."
A spokesman added they had 100 staff in the area to take care of residents' needs, hand out bottled water and deal with compensation claims.
Earlier local resident, Matthew, who has a week-old baby, said he was "concerned about hygiene."
His wife Ellie confirmed the water was restored by about 15:00 GMT but has since stopped again.
"Luckily we've got lots of supplies for the baby and some ready meals.
"The river flow had reduced considerably but it is still flowing and you can see damage to the road," she added.
Meanwhile three people living below them in a basement flat have been forced to move out.
"Opening the front door was like being on the Titanic," said local resident Tom Baggaley.
Emma Sothcott said: "Our flat, which is rented, is right outside the burst water main."
She was planning to stay with friends overnight, but said she would be moving home in the near future.
Hackney Council said it would be opening a rest centre for residents, and emergency services had distributed drinking water to properties.
Thames Water had previously been heavily criticised for its response to flooding caused by a burst main in Lea Bridge, Hackney.
It had assured the council and residents in March that it has developed a more robust approach to serious floods.