London Car Free Day: Tower Bridge shuts for mass yoga session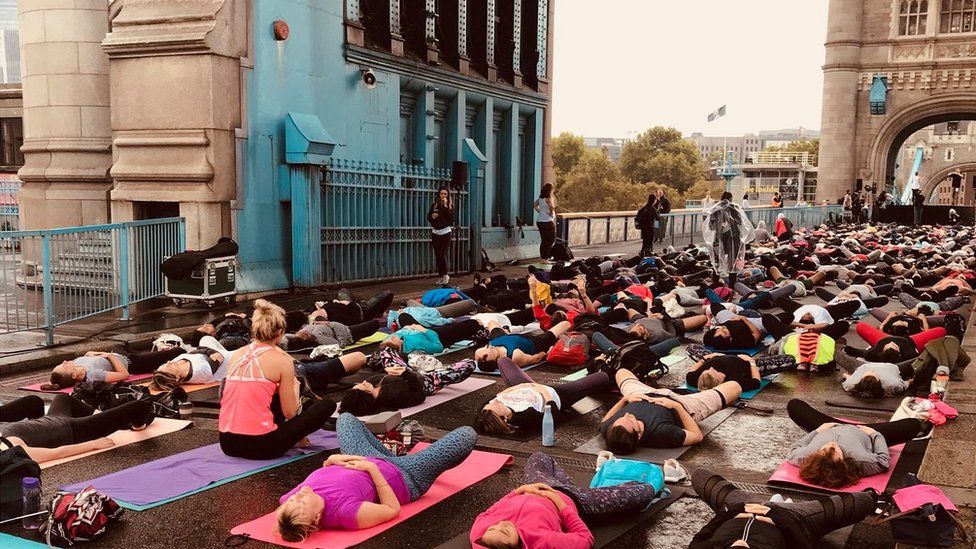 Downward dogs and yoga mats have replaced cars and buses on London's Tower Bridge as part of Car Free Day.
The mass yoga session was one of a number of activities taking place in the capital as more than 16 miles (27 km) of streets were shut.
Bank junction was turned into a festival space while children will race go-karts in the Square Mile.
The closures will be in place until 19:00 BST with roads elsewhere expected to be busy as a result.
Tower and London Bridge were shut at 07:00 BST along with streets in parts of the City, Southwark and Tower Hamlets.
Among the other activities taking place were a hedge maze in Cheapside and classic cycle rides on Tower Bridge.
Organisers hope more than 150,000 people will join the event, which has been named Reimagine.
Away from the centre, 15 boroughs will be running their own Car Free Day celebrations and more than 340 "play streets" - safe spaces for local people to socialise and play - have been approved by 24 boroughs.
Transport for London has warned that those who do take to the roads should expect "significant delays".
Speaking at the event, London's Mayor Sadiq Khan said he wanted "Londoners to just imagine what is possible with fewer cars on our streets".
"There are thousands of Londoners who die prematurely. We need Londoners to understand the importance of reducing the pollution on our streets," he said.
However, Conservative London Assembly Member Keith Prince called the £1m event a "complete waste of time and money".
"There are queues and queues of cars stuck at traffic lights and no more people on these bridges than you'd normally get on any day of the week," he said.
Related Internet Links
The BBC is not responsible for the content of external sites.