Clapton flats fire: Woman rescued during 'suspicious' blaze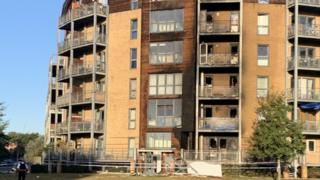 A fire that ripped through flats where a woman had to be rescued is being treated as suspicious, police say.
Eighty firefighters tackled the blaze at Harry Zeital Way in Clapton, east London, at 22:40 BST on Monday.
It started on a downstairs balcony but spread to the upper floors "within two minutes", resident Soyeb Isralia said.
Balconies from the ground to the fifth floor were destroyed, along with part of a flat on the fifth floor and a section of the roof.
The cladding on the building was passed as safe in an inspection, according to documents seen by the BBC.
A risk review carried out for the developers Taylor Wimpey in June concluded the walls of the building "do not pose an unacceptable risk of uncontrolled fire spread".
BBC journalist Georgina Rannard, who lives in the area, described seeing a large window on the top floor "explode" sending debris to the ground.
Mr Isralia added: "We saw the downstairs balcony on fire and within two minutes the flames went all the way up to the fourth floor," he said.
"Everything just exploded after that."
Met Police officers were called to the scene along with ambulance and fire crews, although there were no reported injuries.
The blaze took firefighters, who remain at the scene, three hours to bring under control.
A letter seen by the BBC said a "Management Risk Review" was carried out by London Fire Consultants and Design Associates Ltd for Taylor Wimpey.
The consultants found the cladding on the building was combustible, being rated class B in a standard European test.
Class A2 is regarded as of "limited combustibility" and class A1 as "non-combustible".
Since the Grenfell Tower fire, the government has banned combustible cladding on new buildings, but the change does not apply to existing buildings.
The Clapton building was constructed before the ban.
Taylor Wimpey has refused to release a full copy of the risk review, though residents said they had asked for it.
The company's spokesman said the document was "highly confidential", and in general technical assessments were not passed in full to residents because they were technical and might be "misinterpreted".
In a statement, Taylor Wimpey said: "The safety of residents is our number one priority and we will support them while investigations are under way."