Man cleared over burning Grenfell effigy film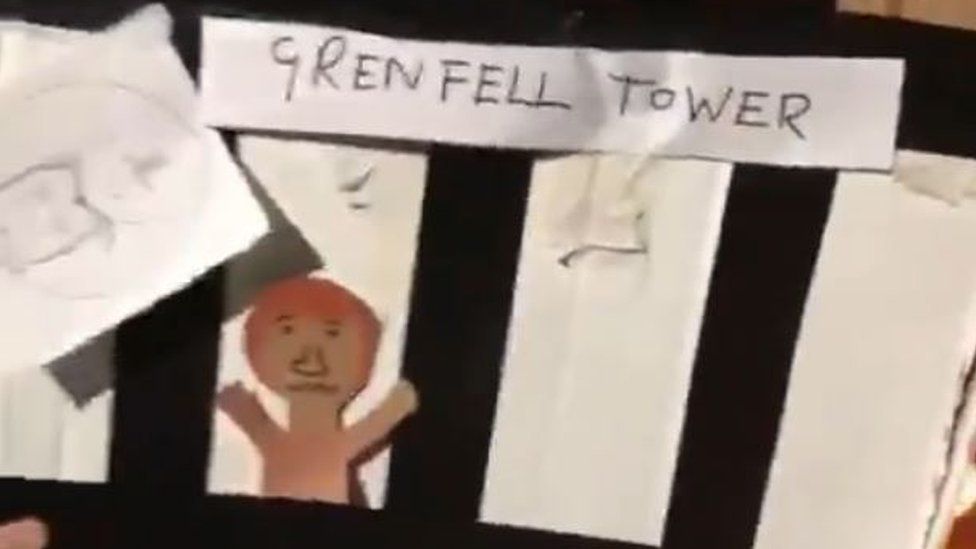 A man who filmed a cardboard effigy of Grenfell Tower being burned on a bonfire has been cleared of posting "grossly offensive" material.
Prosecutors claimed footage recorded by Paul Bussetti at a London party was racist but the 47-year-old said it was a "joke" only shared between friends.
He was found not guilty after it was revealed a second video from the party had also been shared on WhatsApp.
Magistrates said they could not be sure the film was that taken by Mr Bussetti.
The prosecution's handling of evidence in the case was described as "appalling" by Chief Magistrate Emma Arbuthnot.
The clip of the cardboard building, which had "Grenfell Tower" written on it, was recorded at a party attended by about 30 people in south London on 3 November, Westminster Magistrates' Court heard.
It was later uploaded to YouTube and sparked outrage, with a relative of one of the 72 people who died in the blaze on 14 June 2017 calling it "revolting".
Mr Bussetti, of South Norwood, was accused of sending "grossly offensive" material via a public communications network.
He told magistrates the effigy had been created by his friend and the characters featured on the model were meant to represent "the majority of people that were at the party", not people who died in the disaster.
One black-clad figure, who was referred to as "ninja", was meant to represent his friend's son who did martial arts, while his own image had been on the other side of the box, Mr Bussetti said.
The father-of-two said he shared the footage with about 20 people on two WhatsApp groups but he had never intended it to go further.
When prosecutor Philip Scott suggested he sent the footage because it was in keeping with other "highly racist" content he shared, Mr Bussetti replied that it was "just banter" and denied being racist.
Just before Ms Arbuthnot left court to consider her verdict at the end of the two-day trial, defence barrister Mark Summers QC revealed he had just been made aware of evidence that a second video was recorded.
He argued it meant there was "absolutely no way" to know which piece of footage had made its way onto YouTube and gone viral.
Clearing Mr Bussetti, Ms Arbuthnot said she could not be sure the video used in the case was taken by him.
She also said while it was "in colossal bad taste", she could not be certain the figures on the tower were not Mr Bussetti and his friends.
The chief magistrate added she was "appalled at the disclosure in this case" with the last-minute evidence helping to avoid "a potential miscarriage of justice".
A second charge of causing footage of a "menacing character" to be uploaded on YouTube against Mr Bussetti had earlier been dismissed.
Related Internet Links
The BBC is not responsible for the content of external sites.