UK heatwave: Sweltering commuters face heatwave woes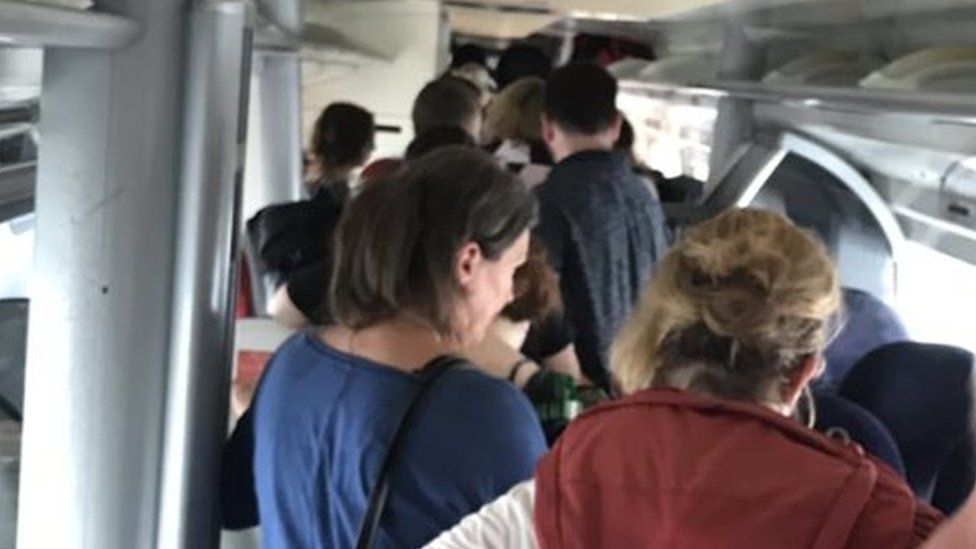 As the UK experienced record-breaking July temperatures, the country's rail network appeared to go into meltdown.
Passengers complained of being stranded inside "baking" carriages, with Network Rail blaming heatwave-hit overhead wires for most of the delays.
In London, misery for some travellers was made even worse when a man was seen chasing a dog along electrified tracks near Waterloo.
Network Rail apologised to passengers facing "uncomfortable conditions".
Passenger Vicky Planet had just left London Euston when her train ground to a halt.
When she spoke to the BBC, Ms Planet said she was waiting to be transferred onto a train taking passengers back to Euston.
She said bottles of water had been handed out by staff on board, who were "doing all they can" despite also suffering from the heat.
"We've been baking in an oven," she said.
Vivienne Tsui, 23, said she ended up trapped in "unbearable" heat on her Manchester-bound train.
Passengers were told the train had suffered a power shortage and there was no air conditioning.
One woman collapsed with breathing problems, she said, and spent two hours on board before she was transferred to another train.
"It's been unbearable, like a sauna, I had to get out of my seat because I felt like I couldn't breathe," she said.
The passengers were promised water after the train first stopped, but only received it an hour later, Ms Tsui said.
She said she did not know whether she would be able to get back to Manchester before work on Friday and would have to contact her employer.
"I don't know what arrangements have been made for us once we get off this train - we'll get back to Euston but from then on I don't know what," she added.
In addition to the problems elsewhere, services out of Waterloo, Britain's busiest station, were suspended at about 19:00 after a man was seen chasing a dog along electrified tracks.
"We saw a dog running down the track and then, 20 seconds later, a man running after it," said passenger Adam Willmott, 23.
"The dog was much faster and the man was looking rather tired."
He said his London-bound train had been stationary for more than 20 minutes with no power.
"We have no air conditioning and it is just getting hotter and hotter," he said. "The train manager said he doesn't know when we will move."
South Western Railway confirmed services between Waterloo and Vauxhall were stopped due to "an individual chasing a dog down the rail lines".
It said the British Transport Police has been called at about 19:00 BST, and disruption was expected until the end of the day.
Frank Mee was stuck on an East Midlands Trains (EMT) service from Derby to St Pancras inside a tunnel for "hours" from about 14:00.
He said there was no air conditioning or water and passengers were given no information by train staff about what happened or how long the train would be stationary.
"I am shocked and disheartened," he said. "I paid £100 for this ticket and they didn't even give us water - absolutely ridiculous."
Mr Mee, 24, from Vauxhall in south London, added: "They tried to turn the air con on but there was such a strong petrol smell as a result, they turned if off very soon afterwards."
EMT has advised passengers not to travel.
A spokesperson said: "We are aware one of our services has stopped near Belsize Tunnel, between West Hampstead Thameslink and Kentish Town. This is due to damage to the overhead line equipment.
"At present, we are not able to run any services south of Bedford.
"The air conditioning and other onboard systems are working, nonetheless, we understand the conditions on the train will be uncomfortable."
Passengers were also stranded on two trains in Cambridgeshire.
London North Eastern Railway (LNER) said its trains had been hit by problems with the "infrastructure in the Peterborough area".
Overhead power line damage has also affected those travelling in the West Midlands.
PHOTOS: We're sorry to passengers impacted by the damaged overhead power lines in Handsworth affecting trains between Birmingham Wolverhampton and Walsall ❌⚡️ For the latest check @WestMidRailway and @nationalrailenq 🚉 Our engineers are working hard to fix the problem👷‍♂️ pic.twitter.com/i0lz1zV7cl

— Birmingham New Street (@NetworkRailBHM) July 25, 2019
Meanwhile, a grass fire broke out on a railway bank near Finchley Road, causing 400 people to be evacuated from a train and 200 from a bus.
A spokeswoman for the London Fire Brigade said the blaze was caused by a damaged overhead line which, in turn, caused a short circuit.
Firefighters were called at to the scene at about 14:40.
Why do overhead wires break in the heat?
Network Rail said overhead lines which provide power to the trains can expand and sag in hot weather.
To avoid damaging the lines, trains must travel more slowly, but if they are damaged, "we have to cancel or divert train services until they are fixed".
Modern overhead lines, it added, are much less affected by hot weather because they have auto-tension systems with balance weights or springs that adjust to different temperatures.
But older overhead lines have fixed tension and "are more vulnerable".
Network Rail said it was replacing old overhead lines with modern, more resilient auto-tension power lines, adding that modern lines were used on the "majority of Britain's rail network".
The UK has had its hottest July day on record with temperatures reaching 38.1C in Cambridge.
Network Rail said teams were working "flat out" to fix issues as quickly as possible, but advised people to check before travelling.
The Rail Delivery Group, which represents train operators and Network Rail, said disruption could last until the weekend.
Director Robert Nisbet said: "Many of the trains will be in the wrong places, many of the rail staff will be in the wrong places and it will take time to reset, to stabilise the timetable again."
Related Internet Links
The BBC is not responsible for the content of external sites.