The Mall blaze: Walthamstow shopping centre 'extensively damaged'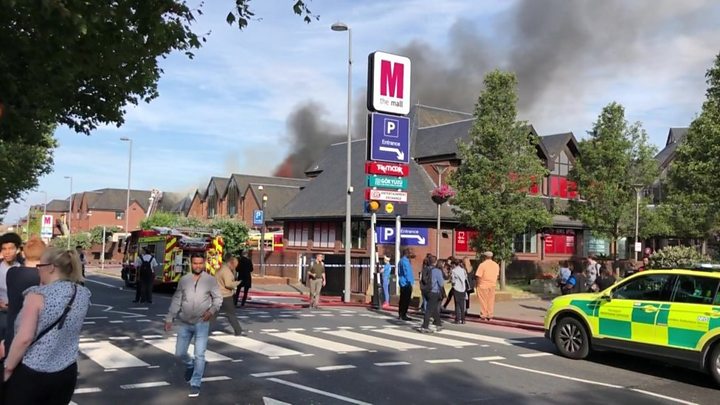 Firefighters spent more than four hours tackling a blaze that has left an east London shopping centre badly damaged.
One woman was taken to hospital after the fire broke out at the Mall shopping centre in Selborne Road, Walthamstow.
Up to 150 firefighters were sent to the scene of the fire, which police declared a "major incident" after it broke out at 07:40 BST.
London Fire Brigade (LFB) said the fire - which is under investigation - was brought under control by about 12:15.
Firefighters remain at the scene "damping down" and people have been told to continue avoiding the area.
A manager of one of the shops in the Mall, who only gave her name as Sabrina, told BBC Radio London: "I can see my store is already on fire, it's gone.
"So there's nothing for me to go back to. I'm really upset."
The Mall has 66 stores across one floor, including Clarks, Asda, Boots and TK Maxx, with a small upper area for restaurants.
Stella Creasy, Labour MP for Walthamstow, said the "damage is pretty extensive".
She praised the "massive effort" between the local council, LFB, the police, ambulance service and Transport for London in dealing with the disruption the fire caused.
"We have to see what the damage now is... you could see that the roof had gone on big chunks of it, even from a distance - so that doesn't bode well," Ms Creasy said.
Images and videos posted on social media show smoke rising into the air and flames in part of the roof.
Witness Alex de Lange said: "There's massive amounts of black smoke billowing from the Mall.
"There's a helicopter and lots of fire engines and sounds like some explosions too. The bus station has been evacuated."
At the scene
By Rob Oxley, BBC Radio London
From my position on the edge of the cordon, I can see the part of the roof that was on fire has caved in.
The fire brigade says the fire is now under control and they don't think there's any danger of more of the roof collapsing. They've been using a drone to assess the damage.
Fire crews who've been here all morning are now being replaced with fresh crews. I've just seen an engine arrive from Hillingdon.
An assistant manager of one shop told me doesn't think the fire reached her store, but the clothes will have been damaged by the smoke. She told me she's devastated for the smaller businesses.
LFB commissioner Dany Cotton is also on scene, acting as second in command.
Elly Gresham-Scott said the "air was hazy" with ash particles.
Freddie Joyce said there were "massive high flames spreading at high speed".
Walthamstow Central Tube station was evacuated, but has since reopened. Walthamstow bus station is closed and diversions for local bus services will likely remain in place until Tuesday, according to TfL.
People have been advised to follow @TfLBusAlerts or check tfl.gov.uk for travel updates.
Waltham Forest Council said it was working with the businesses affected, as well as centre owners Capital and Regional, to "give immediate support during this difficult time".
Council leader Clare Coghill said: "We have provided temporary office space in nearby Hoe Street so that Capital and Regional have a base from which to operate and our business support team are on hand to see where we can support retailers."
She added that it would "not be known how long the centre would be closed for, as structural engineers have to gain access to the site and then assess the damage to the structure".