Kingston University campus evacuated over 'WW2 bomb'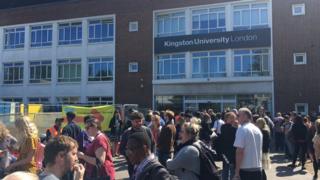 Nearly 1,500 homes and part of a university in south-west London have been evacuated after a suspected unexploded World War Two bomb was found on a nearby building site.
Students at Kingston University London had to leave part of the Penryhn Road campus while officers investigate.
The Met Police said it was called at 09:15 BST on Thursday and had asked for help from the Ministry of Defence.
A cordon in place in Fassett Road closed two nearby polling stations.
At about 20:30, police said about 1,500 houses had been evacuated as a precaution with cordons expected to remain in place until Friday afternoon.
Commander Mark McEwan said: "Rest centres and assistance are being provided by our partners. The operation is likely to continue throughout the night."
You may also be interested in:
At 11:30, Kingston University said the campus would "be closed for the rest of the day".
A spokesperson added: "All staff and students based at Penrhyn Road may go home. Be prepared that the campus may also be closed tomorrow."
By the afternoon, the cordon had been extended to cover the Knights Park campuses, the University's nursery and some student halls.
Kingston Council confirmed two polling stations being used for the European elections had been closed while the device is dealt with.
St John the Evangelist Church in Grove Lane had been moved to St Mark's Church in Surbiton and St Raphael's Catholic Church Hall in Portsmouth Road had been moved to Glenmore House, The Crescent.