North Circular hit-and-run death crash: Hunt for two cars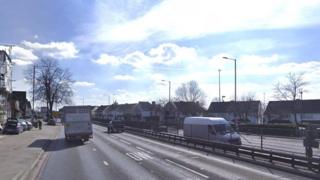 Two cars may have hit a man who was killed in a hit-and-run crash on the North Circular Road in north-west London.
The man in his 40s died at the scene of the crash on the A406, at 03:09 BST.
The Metropolitan Police said they were searching for two cars, both believed to be black, which failed to stop at the scene.
The North Circular was shut westbound, between Staples Corner and Neasden Lane, but has since re-opened.
Two of the three lanes eastbound were also shut.
Officers said they were still looking into what had happened but said the man may have been hit by both cars.
Detectives are appealing for anyone with dashcam footage to contact them.