London Marathon 2019: More than 40,000 taking part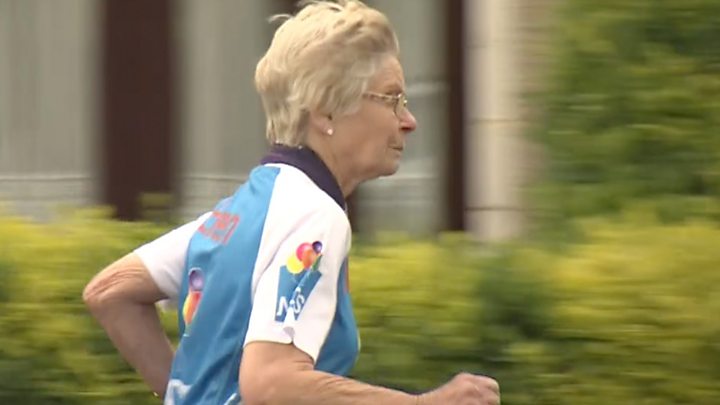 Runners in an array of colourful costumes have been pounding the streets in the 39th London Marathon.
Participants dressed as Batman to Spiderman have run the tough 26.2-mile race, in what has been a record-breaking year for applications.
More than 40,000 took part to the cheers and applause from crowds.
Eliud Kipchoge won the men's race with a new course record and second fastest time ever, while Sir Mo Farah finished fifth.
Kenya's Brigid Kosgei won the women's race with compatriot Vivian Cheruiyot coming in second - a role reversal from last year when she beat Kosgei to the crown.
American Dan Romanchuk won the male wheelchair race, while Manuela Schar crossed the finishing line first in the female wheelchair race.
Eight-time winner David Weir competed in the wheelchair race for the 20th consecutive year.
Tennis champion Sir Andy Murray officially launched the race at 10:10 BST to cheers from crowds gathered around the packed starting line at Blackheath, while the Duke of Sussex presented the winners with their awards, despite the duchess expected to give birth soon.
An eight-strong team from TV soap EastEnders are running for Dementia Revolution on behalf of Dame Barbara Windsor, who was diagnosed with the disease in 2014.
Just before the race, her husband Scott Mitchell said: "I'm feeling so excited, it's almost like a school trip and Christmas all rolled into one. I'm a little bit nervous as I've never been runner."
He added that someone gave him some great advice that "you ain't going to win it, so just enjoy it".
"I just want to take everything in and I want to thank everyone who has donated," he said.
While running across Tower Bridge, Helen Skelton said she had not run since before she had her two children and was nervous.
"I want the boys to be proud, I want to raise lots of money for prostate cancer but ultimately I love this event because it makes you like people," she said.
The TV presenter added she was aiming for a time of 4.5 hours but added "you do not come here for a time, but for the atmosphere as the crowd is unbelievable, makes you want to cry".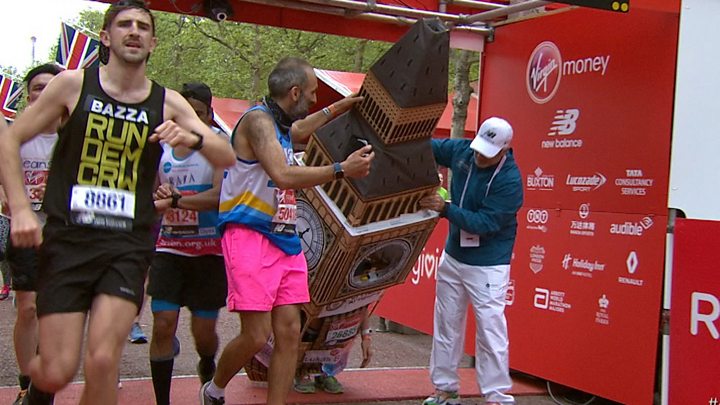 Thomas Rice is running for the charity Children with Cancer UK in tribute to his son who died last year.
"Children and cancer are two words that should never go together," he said, adding that his wife was due to give birth today and that at 04:00 she told him her waters felt like they had broken.
"I'm a little bit worried about making the birth of the baby," he said.
Also competing is Bristol runner Nick Butter, who is aiming to take part in 196 marathons in each country in the world.
He described the atmosphere as "very loud", and added: "I've still got 60 to go. It's been a great day, I'm so glad it is not too hot so people can get through it safely."
The oldest woman running was 84-year-old Eileen Noble. She started running in her 50s and completed the race in six hours and 28 minutes.
The marathon has raised £1bn since it started in 1981, according to race sponsors Virgin Money.
Sir Richard Branson, founder of the Virgin Group, has hinted he may join the runners next year.
"I was last involved in running the marathon 10 years ago when we [Virgin] first got involved," he said.
"I've got a big birthday coming up next year so it's possible that I might run again next year.
"It would be great to be involved again."
Event director Hugh Brasher said: "No other mass participation event comes anywhere near this kind of fundraising.
"We would like to thank every runner, supporter, donator, charity, volunteer, sponsor, spectator, staff member and everyone else who has contributed to this wonderful total."
---
At the scene: Rebecca Cafe, BBC News
At the Embankment, there was one touching moment when a couple next to me all of a sudden started to jump up and down screaming with excitement as they noticed their son approaching.
Once he spotted them, he immediately ran over. A quick hug and exclamation of how tired he felt saw him back on his way. His parents then quickly went in the opposite direction to get the Tube to try and race him to the finish line.
He wasn't the only tired one though, a few people were clearly feeling the full affects of the previous 23 miles and as they jogged - and walked - by.
In contrast to the exhaustion of the runners, was the energy of the crowd, which comprised of a host of samba and brass bands, whistles and inflatable clappers.
And if that wasn't enough, spectators were offering high fives and shouting out runners' names to give them a final boost.
---
Speaking about the £1bn raised for good causes, Mayor of London Sadiq Khan said: "This is an astonishing achievement and my congratulations go to everyone involved in making the London Marathon such a world-renowned fundraising success - helping millions of people over the last 38 years."
---
Marathon facts
Some 444,168 people applied in the ballot for a place, 7.3% more than last year, and 56,398 were successful
44% of the applicants were women and more than half of all runners have never taken part in a marathon race before
The event's Charity of the Year 2019 is Dementia Revolution, a partnership between Alzheimer's Society and Alzheimer's Research. Its fundraising target is £3.5 million
A group of men called Ever Presents are taking part, having run every London marathon since 1981