ULEZ: New pollution charge begins in London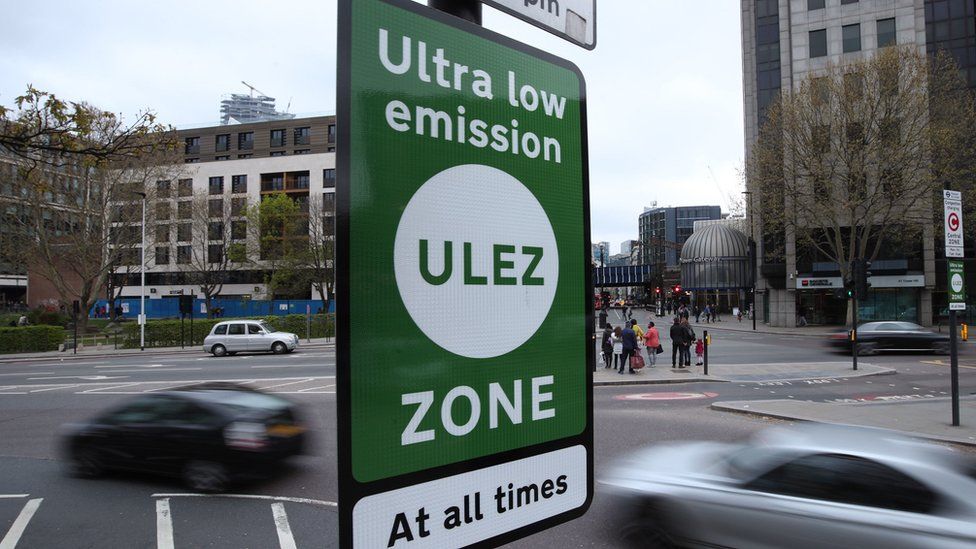 The Ultra Low Emission Zone (ULEZ) has come into force in central London.
Drivers of older, more polluting vehicles are being charged to enter the congestion zone area at any time.
Transport for London (TfL) hopes the move will reduce the number of polluting cars in the capital, and estimates about 40,000 vehicles will be affected every day.
Mayor of London Sadiq Khan said it was "important we make progress" in tackling the capital's toxic air.
However, the Federation of Small Businesses (FSB) said many small firms were "very worried about the future of their businesses" as a result of the "additional cost burden".
Most vehicles which are not compliant will have to pay £12.50 for entering the area each day, in addition to the congestion charge.
Vehicles can be checked using TfL's online checker but broadly speaking, those which are non-compliant are:
Motorbikes that do not meet Euro 3 standards (pre-2007 vehicles)
Petrol cars and vans that do not meet Euro 4 standards (vehicles pre-2006)
Diesel cars and vans that do not meet Euro 6 standards (vehicles pre-2015)
Buses, coaches and lorries will need to meet or exceed the Euro 6 standards or pay £100 a day
Anybody who does not pay the charge will face a fine of £160, although a first offence may result in only a warning letter.
The ULEZ is set to be expanded to cover the entire area between the North and South Circular roads in 2021.
TfL estimates the initial scheme will lead to a reduction in toxic emissions from road transport by about 45% in two years.
Mr Khan said London's air pollution was a "public health emergency" and it was the "poorest Londoners that suffer the worst quality air".
Tom Edwards, BBC London transport correspondent
A very damp misty morning in London and most people probably won't notice anything has changed.
But London has taken a big step in trying to clean up its air.
Given the go-ahead in 2013 by the previous mayor Boris Johnson, Sadiq Khan brought the ULEZ forward a year and is planning to expand it in 2021.
City hall says the ULEZ has already changed behaviour, with a fall in vehicles in central London and a rise in compliant vehicles ahead of launch.
The plan is that London's air will be compliant with legal limits by 2025.
Other cities are talking about diesel bans but London has taken the radical step that puts it in the vanguard of clean-air schemes. Other cities are watching closely.
Speaking to BBC Breakfast, Sandra Green from the Clear Air Parents Network said the scheme was a "really big step forward".
"Air pollution caused by traffic, caused by individual cars - is causing problems for health for the next generation... and it's about time we did something about it," she said.
Figures from City Hall show more than 60% of all vehicles driving through the charging zone in March were already compliant with the new restrictions.
Nearly 27,000 non-compliant vehicles have been taken off the roads in the last two months, and there has been an 11% drop in the total number of cars entering central London.
Jim Parker, managing director at car recovery company Boleyn, said the charge was "really unfair".
"It's not just us, it is across the industry - everybody that owns a van or a truck and earns a living with it," he said.
"We've had a local business, where the margins are so tight, they've now had to cease trading because they can't get a retrofit kit and they can't afford new vehicles."
Go Ultra Low, an electric vehicle campaign backed by the government, said: "There has never been a better time for drivers to consider making the switch to electric."
Related Internet Links
The BBC is not responsible for the content of external sites.