London explosive packages: Police 'can't confirm' Irish terror link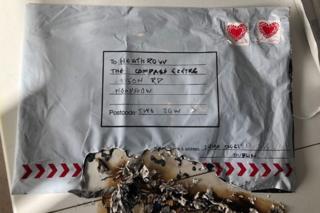 Counter-terrorism officers say they "cannot confirm" any links between Irish dissidents and explosive packages sent to three transport hubs in London.
Devices delivered to London City Airport, Heathrow Airport and Waterloo Station on Tuesday all had Republic of Ireland stamps.
Met Deputy Assistant Commissioner Dean Haydon said officers had found "nothing to indicate motivation of the sender".
But the devices have been linked with one sent to the University of Glasgow.
Scotland Yard said it was "pursuing a number of lines of inquiry", including "the possibility that the packages have come from Ireland".
Mr Haydon said no message appeared to be contained within the packages, no sender had been identified and no group had claimed responsibility.
"I cannot confirm at the moment if it's connected to any Ireland-related terrorist groups," he said.
Mr Haydon said the devices, which are being checked for fingerprints and DNA, were "not designed to kill" but had "some degree of sophistication".
Irish police are assisting the Met with its inquiries, the Gardaí confirmed.
Police Scotland said its counter terrorist officers were working with officers from the Met following the University of Glasgow incident.
Assistant Chief Constable Steve Johnson said: "The package sent to the university was not opened and no-one was injured. A controlled explosion of the device was carried out this afternoon by EOD.
"There are similarities in the package, its markings and the type of device that was recovered in Glasgow to those in London. Therefore, we are now treating it as being linked to the three packages being investigated by the Met in London and both investigations are being run in tandem."
British Transport Police (BTP) said it had more officers on the transport network to provide "reassurance" after the London series.
Both airports and Waterloo are running as normal, with London City Airport saying there would be a "visible police presence".
Nobody was injured by the "small improvised explosive devices", which were found in white postal bags containing yellow Jiffy bags.
The first package caught fire when it was opened by staff at Heathrow's Compass Centre at about 09:55 GMT.
The other two were discovered over the next three hours.
The Met said all three appeared capable of igniting a small fire when opened.
The packages sent to all three hubs had stamps issued by the Irish postal service for Valentine's Day 2018, featuring a heart motif and the words "Love Eire N".
The senders' addresses on the packages were also given as Dublin.
While the devices did not affect air or rail services, workers were evacuated from City Aviation House at City Airport and Heathrow's Compass Centre, where the packages were sent.
Both have since reopened, although workers have been told to be vigilant for further suspicious packages.
Speaking at a London Assembly police and crime committee meeting, Met Police Deputy Commissioner Sir Stephen House said the investigation was in its "very early days" but warnings had been issued to transport hubs to be "more vigilant than they normally are".