Man cleared over drill rapper Incognito's murder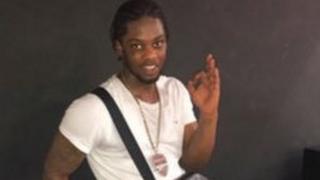 A man who stabbed a young drill rapper in self-defence after his fake Cartier watch was stolen has been cleared of murder.
Sidique Kamara, 23, known as Incognito and SK, was stabbed to death in Camberwell on 1 August.
Kenneth Umezie, 25, pulled out a lock knife after his watch was taken.
He was acquitted of murder and an alternative charge of manslaughter following a two-week trial at the Old Bailey.
Mr Kamara, who was high up in south London's Moscow 17 gang, suffered two stab wounds and died on Warham Street.
The drill rapper was one of 78 people stabbed to death in London last year.
Mr Umezie told jurors Mr Kamara was fatally knifed in the course of a struggle after he gave chase in a bid to retrieve his watch.
He insisted that Mr Kamara was stabbed accidentally as he acted in self-defence.
Mr Umezie, of Don Phelan Close, Southwark was discharged from custody after he was cleared.
Drill music has been linked with escalating gang violence in the capital.
Moscow 17's drill videos have been viewed hundreds of thousands of times on YouTube and include lyrics hostile to long-running gang rivals Zone 2.
In January 2018, Mr Kamara was cleared of murdering 17-year-old Abdirahman Mohamed.
Mr Mohamed was the brother of a member of Zone 2 from Peckham and was stabbed to death on 2 June, 2017.
Mr Kamara and another member of Moscow17, Kevin Aka-Kadjo, were both acquitted of murder.