Men guilty of waving gun during high-speed police chase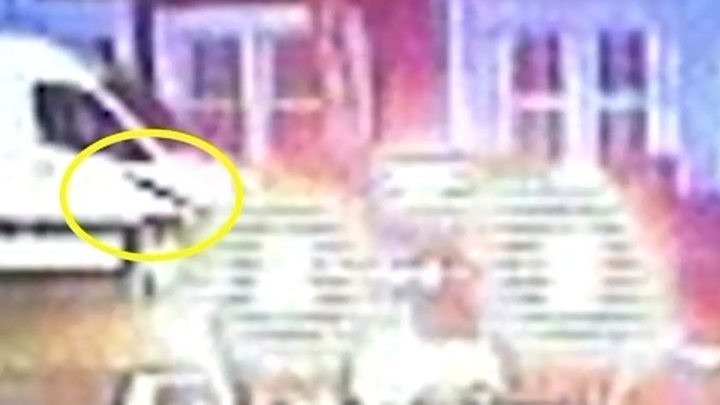 Four men have been found guilty of firearms offences after a gun was waved at police during a high-speed chase.
Armed officers fired shots and rammed the car the gang members were in during a "ride-out" into the territory of another gang in a stolen BMW in Leyton in July 2018, the Old Bailey heard.
Lekan Akinsoji, Darnell Joseph-Newill, Nathaniel Lewis and Troy Ifill will be sentenced on 8 February.
Akinsoji wore a clown mask while the others also hid their faces.
They were carrying weapons including a zombie knife and a sawn-off shotgun, the court heard.
Akinsoji, 21, from Dagenham, Joseph-Newill, 21, from Stratford, Lewis, 23, from Forest Gate, and Ifill, 22, from Stratford, were all found guilty of possession of a firearm with intent to endanger life.
Akinsoji was linked to the Woodgrange or "E7" gang from Forest Gate, east London, the court heard.
He and his co-defendants were said to be associated with local gangs and had formed an alliance under the name "Northside Newham".
All four men had produced a number of drill music videos bragging about gang activity and crime.
Prosecutor Anthony Orchard QC said the aim of the "ride-out" would have been to cause serious injury or death to a "presumed member of the opposing gang".
He said the weapons found in the stolen car suggested "their obvious intention that night".
Mr Orchard told jurors: "The police driver, understandably, thought the lives of himself and his colleagues were in danger.
"Having assessed the situation, and as he drove, the police driver fired four shots through the front windscreen of his police vehicle in the direction of the gunman. The shots missed."
All four men were also found guilty of conspiracy to cause GBH with intent. Akinsoji was acquitted of using a firearm to resist arrest.
Speaking after the conviction, Det Ch Insp Jane Topping said the defendants were "extremely dangerous individuals".
"These four men had gone out that day to commit serious violence and even murder and I have no doubt about that," she added.
"There was a sawn-off shotgun, two lock knives, an axe, a machete, a hunting knife and a zombie knife."