Man found guilty of murdering estranged wife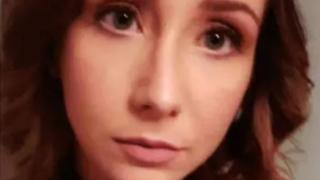 A "jealous and controlling" man who strangled his estranged wife after she refused to sleep with him "one last time" for £100 has been found guilty of murder.
Martin Cavanagh, 35, attacked 31-year-old Sophie Cavanagh at his flat in Bromley, south-east London, on 20 May.
He left a message on a board saying she "deserved it", a court heard.
Cavanagh, who told the Old Bailey he acted in self defence, is due to be sentenced on Monday.
In a statement, Mrs Cavanagh's family said: "That nasty, controlling, abusive man deserves to rot in prison for the rest of his life for taking our beautiful Sophie's life away from her in such a despicable way, just because she no longer wanted to be with him.
"This is a nightmare no family should have to go through."
Prosecutor Alexandra Healy QC told the court how the couple married in 2011 but split up before the killing.
She said: "The defendant had a controlling, jealous and possessive nature throughout their relationship.
"He had a short fuse and would get angry quickly."
Following their separation, the couple went on outings together and planned a holiday to Disneyland Paris, the court heard.
'Consumed with jealousy'
When Cavanagh found out his wife was using dating website Match.com, he accessed her account to sabotage her profile.
Jurors were shown a series of WhatsApp messages he sent her, with one offering £100 if she would sleep with him "one last time."
Four days before the killing, he told her: "You have broken, shattered and ripped me to shreds."
Mrs Cavanagh agreed to go on a trip to Wingham Wildlife Park in Kent with Cavanagh before her death.
Her body was found at the defendant's flat the next day.
Knowing that police were looking for him, Cavanagh eventually gave himself up days later on 24 May.
Ms Healy said the defendant was "consumed with jealousy and unable to accept the end of their relationship".
She added: "Having killed her it is very likely that he was not thinking straight. He wrote on the white board that she deserved it."
Defendant 'attacked'
The court heard he went through her handbag to get her bank cards so that he could get cash out for himself in the early hours of the morning.
He also stripped his wife and put her into bed to make it look like she died in her sleep, jurors were told.
Cavanagh was remanded in custody ahead of his sentencing.
In his defence, Cavanagh claimed he acted only to protect himself from his wife, who had "attacked" him after they took cocaine.