Bus driver toilet is a 'hideous surprise' for residents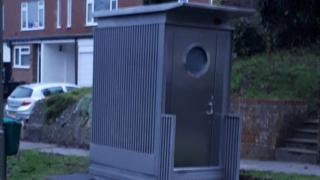 A "hideous" toilet for bus drivers that "looks like Dr Who's Tardis" was "dumped" on a residential street, leaving one homeowner to complain it has devalued her house.
Stephanie Willis, 33, said the unsightly "turdis" can be seen from every window of her house.
The loo, erected on Tuesday, is part of Transport for London's (TfL) bid to improve conditions for its drivers.
The toilet was vandalised six hours after being put up, Ms Willis said.
"I first saw a picture of it on Facebook and honestly thought someone had Photoshopped Dr Who's Tardis onto my driveway," she added.
"I was indeed mistaken. It was actually a great big lavatory erected for use by bus drivers who terminate their service at the bottom of our road twice an hour Monday to Saturday with the last bus leaving at 20:25.
"We were not given any notice that this 'turdis' was going to be put on our street. It was just dumped there - as if it fell out of the sky.
"I have never seen anything like that on a residential street before, it is just hideous.
"I feel sorry for our poor neighbours who literally walk down the steps and into the toilet's front door". 
The toilet on Melody Road in Biggin Hill has since been vandalised and the key pad has been "drilled into", Ms Willis added.
Nick Fairholme, TfL's director of projects and programmes, apologised to residents who were unaware of the plan.
He said the toilet was "installed in agreement with the London Borough of Bromley, but unfortunately our courtesy letters did not reach all residents".
Although it does not require planning permission, TfL said it had engaged with the local planning authority and highways managers to secure their agreement.
TfL said it is investigating the damages made to the toilet.