Metropolitan Police sued over gangs list leak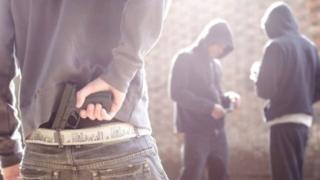 A 28-year-old man is suing the Metropolitan Police after his name and address appeared on a leaked gangs list.
The data breach, which came to light in September, is understood to have happened in 2017.
The man says he fears for his safety after a relative obtained the information and sent it to him on WhatsApp.
The Met is aware of a claim but said it would be "inappropriate to comment".
'Exposed'
The man claims panic alarms have been installed at the home he shares with his parents and child.
His solicitor Victoria Richardson said: "Our client's name was one of around 150 which was clearly visible, along with other personal details and gang names.
"For our client's family, it is of course particularly worrying to see their address on this list, knowing it has been shared on social media platforms and not knowing who has seen it, and what the result of that information getting into the wrong hands could be.
"They feel it has left them and their home exposed."
News about the leak emerged as part of a serious case review into the murder of 14-year-old Corey Junior Davis who was shot dead in a playground in Newham, east London, on 4 September 2017.
The review, published in September, said a copy of the Met's Gang Matrix was lost by an "unknown professional", picked up by a member of the public, "photographed and shared on social media" and then "accessed by unknown individuals".
'Serious breaches'
Watchdog the Information Commissioner's Office (ICO) is carrying out an investigation into Newham Council over the alleged breach.
The council has been approached for comment.
The database, set up in the wake of the 2011 London Riots, uses intelligence including history of violent crime, entries on social media and information from bodies including local councils to identify gang members.
Information on the database is shared with agencies such as social services, housing authorities and education staff.
The Met has come under fire previously over its Gang Matrix, with Amnesty International describing it as "not fit for purpose".
Last month, the ICO ruled the Met's use of the matrix led to "multiple and serious breaches of data protection laws" and gave the force six months to change the way it handles the data.
Fore bosses said they already had an action plan to bring the database in line with the law and would continue using it to reduce the impact of gang violence.